Tebow's NFL Contract With Eagles Includes No Guaranteed Money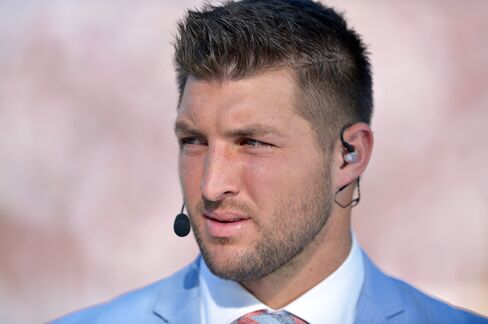 Tim Tebow's contract with the Philadelphia Eagles includes a $660,000 base salary, the minimum for a player with three years of National Football League experience, and includes no guaranteed money, according to USA Today.
Tebow's one-year deal would pay him $38,824 a week during the regular season if he makes the Eagles' roster, USA Today reported on its website. Tebow's salary would drop to $388,000 if he's placed on injured reserve, the paper said.
The 27-year-old Tebow, who last played in an NFL game with the New York Jets during the 2012 season, is the Eagles' fifth quarterback, joining fellow first-round picks Sam Bradford and Mark Sanchez along with Matt Barkley and G.J. Kinne.
The odds are that Tebow won't make the Eagles' 53-man regular season roster, at least according to online sportsbook Bovada.lv. The betting line for Tebow to make the roster is 5-2 at Bovada, while it's 1-4 for him to get cut before the start of the season, meaning a bettor would have to wager $400 to make a $100 profit on that outcome.
Tebow won two national championships and the 2007 Heisman Trophy as college football's best player while at the University of Florida, yet was a polarizing player during his three NFL seasons. While he threw 17 touchdown passes against nine interceptions and also rushed for 989 yards and 12 scores, he only completed 47.9 percent of his passes. The NFL's average completion percentage was 62.6 last season.
Tebow was voted America's favorite active pro athlete in an ESPN fan-based poll in 2011 and had one of the league's best-selling jerseys. He also spawned a fad known as 'Tebowing' based on his kneel-and-pray pose after victories and has been outspoken in professing his Christian beliefs.
Before it's here, it's on the Bloomberg Terminal.
LEARN MORE