Sweden Targets New Investment Plan for Infrastructure Next Year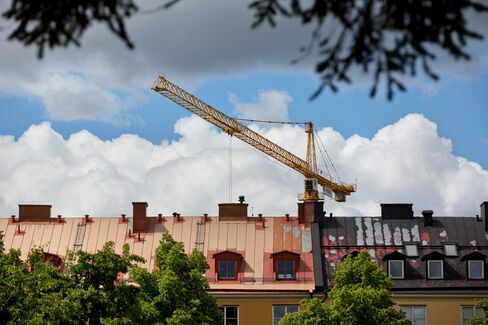 Sweden's government targets introducing an investment program for infrastructure projects as early as next year as part of its plan to cut the nation's jobless rate to the lowest in the European Union by 2020.
"We are working on an investment plan," Finance Minister Magdalena Andersson said in an interview after a speech in Stockholm on Wednesday. "At the earliest, we could present this with next year's infrastructure proposal," she said. "We will see how it will be financed."
The Social Democrat-led government, which was elected in September, is looking for ways to cut Scandinavia's highest jobless rate after some of the country's biggest exporters were hit by Europe's debt crisis. Andersson said she wants to insure the investment plan "isn't lost in the budget process" by presenting the program together with a decision on spending caps that will form part of the regular budget.
One model for financing the investment plan could be for the government to take on loans, which would be backed by expected future income, Andersson said. The Oeresund Bridge that connects Sweden and Denmark was funded through a similar model, she said.
Prime Minister Stefan Loefven revealed the investment plan in an interview with Bloomberg on April 20. He said then the government is considering outlining investments separately from the budget, to support infrastructure and housing as part of his push to create jobs.
Loefven, who heads a minority coalition, faces budget constraints to meet a pre-election pledge of reducing unemployment to levels not seen in Sweden in more than a decade. The government forecasts budget deficits through 2017 and has pledged to fully finance all spending measures.
Andersson said on Wednesday any measures taken to support infrastructure and jobs won't risk Sweden's budget health.
"It's important for us to keep the real capital in order that we know how it's managed and how it develops," Loefven said. "It's absolutely crucial to strengthen competitiveness -- that we know the status and what we want to do with housing, roads and railways."
Before it's here, it's on the Bloomberg Terminal.
LEARN MORE