Scene Last Night: Dalio, Kravis Fete Simpson Thacher's Beattie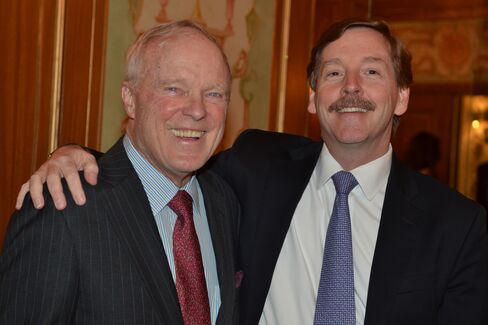 Add Jamie Dimon, Henry Kravis, and Richard Parsons to the list of hot satirical-video stars.
They invited camera crews into their offices as they gave character references for Richard Beattie, who built the M&A practice at Simpson Thacher & Bartlett and has done his share of billable hours for all three.
The 13-minute video, produced by HBO for the New Visions for Public Schools benefit Tuesday night, was a fair indication that Beattie is beloved as a lawyer, friend, former Marine Corps pilot, motorcycle rider (he's on the board of Harley-Davidson), dad, husband and civic leader.
Beattie founded New Visions 25 years ago to improve public school education in New York City. It runs six of its own charter high schools, and supports 80 public high schools with services such as professional teacher development, data analysis and college-readiness programs.
Beattie said his most relevant work experience for achieving results at New Visions was "what I learned about policy and politics and how to put it all together," working in the Department of Health, Education and Welfare under President Carter. (He was also an emissary for Cyprus under Clinton.)
The tribute to Beattie brought out Ray Dalio, Roger Altman, Kimba Wood, Peter Orszag, Peter Solomon, Vartan Gregorian and Kravis, and included the announcement that $8.2 million has been raised for a fund in Beattie's name dedicated to "emerging innovation projects."
Roll Tape
The part with the guffaws took place over dessert when the video rolled.
Under the conceit that Beattie was being vetted as a running mate for an unnamed female presidential candidate, Dimon, Kravis and Parsons hammed it up for the candidate's chief vetter, Rhonda Klain, played by comedian Judy Gold.
Exactly how were they funny? With help from Mark Katz, who wrote jokes for Bill Clinton when he was president but said he isn't working on Hillary Clinton's candidacy. Asked by HBO Chief Executive Richard Plepler and Time Warner executive Gary Ginsberg to write the project, Katz had the titans talking trash about Beattie's work on JPMorgan Chase's acquisition of Bank One, the leveraged buyout of RJR Nabisco and the merger of AOL and Time Warner.
"What do I think of Dick Beattie?" Kravis says on speaker phone in his office, standing on his putting green. "Let me ask you, did you ever read 'Barbarians at the Gate?' Dick Beattie was the barber at the gate. Every deal I took his advice on, I ended up taking a haircut. A mastermind? On the RJR Nabisco deal he kept telling me not to be worried about the tobacco law suits, his worry was all about the Triscuits."
Parents' Pool
Dimon riffs on the classic movie "The Graduate," recalling that he first met Beattie "a week out of college, at a pool party at my parents' house," when Beattie "came up to me and whispered 'credit default swaps.'" Years later, "maybe 2001 or 2002," Dimon says, he was in a meeting about new "revenue streams" and "financial instruments" when he remembered those words: credit default swaps.
"Everyone in the room thought it was a great idea," Dimon says, "but by 2008 it didn't seem so brilliant."
"So you're saying his advice was prophetic?" Gold asks.
"No, no, I'm saying it was apocalyptic."
Parsons appears as the others, in front of a very-upper-floor window with an incredible view, glass of red wine in hand. "You mean the genius behind the AOL Time Warner merger? If you merge your boss's fate with Dick's, it will take many, many years to undo the damage, and several billions of dollars, but good luck." The camera cuts away as he raises his glass to the camera.
Julia Louis-Dreyfus
The final scene reveals the identity of the female presidential candidate: Julia Louis-Dreyfus playing her character on the HBO show "Veep," Selina Meyer.
The vetter tries to tell Meyer about her reservations, which at this point, thanks to a few more spoof cameos, include the possible dredging up of his shenanigans when he was a Dartmouth student and missing one of his daughter's weddings for work. The candidate, however, has already made her choice. Cut to her 2016 campaign poster, with Beattie appearing at her side.
Before it's here, it's on the Bloomberg Terminal.
LEARN MORE