Roche Reports First-Quarter Sales That Beat Estimates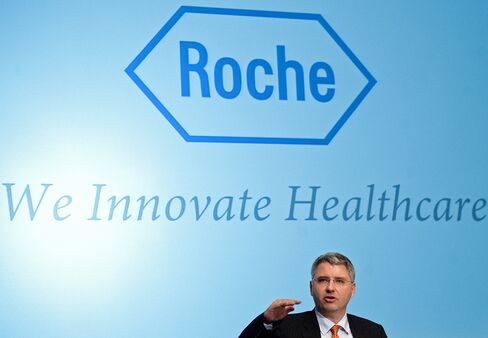 Roche Holding AG, the world's biggest seller of cancer drugs, reported first-quarter sales that beat analysts' estimates on growth from new medicines.
Revenue rose 3 percent to 11.8 billion Swiss francs ($12.4 billion), the Basel, Switzerland-based company said in a statement on Wednesday. That beat the 11.5 billion-franc average of eight estimates compiled by Bloomberg.
Demand for Perjeta, the newest product in Roche's arsenal against breast cancer, which doctors are twinning with the older blockbuster Herceptin for more impact, helped drive growth in the quarter. Roche also raised Herceptin's price in the U.S.
"The old products, in particular Herceptin, are being dragged along by the new ones," said Birgit Kulhoff, an analyst at Rahn & Bodmer Co. in Zurich. "That was basically the reason for the outperformance."
Sales of Perjeta, approved in the U.S. in 2013, rose 82 percent to 322 million francs. Herceptin climbed 12 percent to 1.65 billion francs. A study funded by Roche and released last year showed the combination of Perjeta and Herceptin with chemotherapy extended the lives of people with an aggressive type of breast cancer by 16 months compared with patients who only received Herceptin and chemotherapy.
Roche rose 2 percent to 279.20 francs at 9:48 a.m. in Zurich. The stock has returned 13 percent in the past year including reinvested dividends, compared with a 45 percent return for the Bloomberg Index that tracks the performance of 19 European pharmaceutical companies.
Competition Ahead
Looking ahead, Roche will present data at the American Society of Clinical Oncology's meeting in the U.S. next month for a new type of medicine that seeks to harness the body's immune system to fight tumors. Investors will be scrutinizing how those results stack up against data on rival drugs being developed by Bristol-Myers Squibb Co., Merck & Co. and AstraZeneca Plc., said Michael Nawrath, an analyst at Zuercher Kantonalbank in Zurich.
"It is a must for Roche to present better results than competitors at ASCO," Nawrath said by phone. "This is a very high hurdle."
Roche today repeated its forecast for sales this year to increase by a "low to mid-single digit" percentage, and for core earnings-per-share growth to exceed that, excluding currency swings.
"We started the year with strong growth and good uptake of new products," Chief Executive Officer Severin Schwan said. "We are on track to reach our full-year targets."
Currency Impact
Schwan also indicated that the Swiss franc's surge might have less of an impact on results than expected. Currency movements may strip 3 percentage points from sales and 4 percentage points from operating profit. The company in January estimated the impact might shave 9 percentage points from growth in operating profit this year and 6 percentage points from sales. In the first quarter, currency movements trimmed revenue by 2 percentage points.
Revenue from the company's diagnostics division climbed 6 percent to 2.5 billion francs. Roche publishes only quarterly sales, not earnings.
Before it's here, it's on the Bloomberg Terminal.
LEARN MORE