Thunder Fire Brooks After Missing NBA Playoffs Without Durant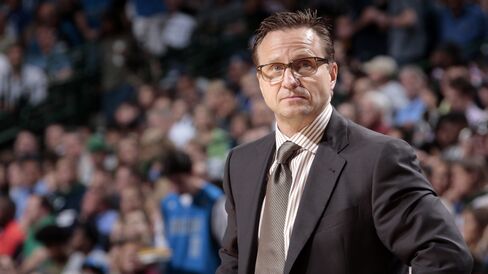 The Oklahoma City Thunder fired coach Scott Brooks after a season in which they finished one win out of the playoffs and Kevin Durant missed 55 games due to injury.
Thunder General Manager Sam Presti said it was an "extremely difficult decision" to part ways with Brooks, who had a 338-207 record over the past seven seasons, was named the National Basketball Association's Coach of the Year in 2009-10 and guided the team to the 2012 NBA Finals.
"This past year we had unique and challenging circumstances and as I have conveyed, not many people could have accomplished what Scott and this team were able to," Presti said. "Therefore, it is very important to state that this decision is not a reflection of this past season, but rather an assessment of what we feel is necessary at this point in time in order to continually evolve, progress and sustain."
The Thunder lost two of their three appearances in the Western Conference finals under Brooks and Presti said that a coaching change was needed to "stimulate progress" and put the team in the best position entering next season. Durant, the NBA's 2013-14 Most Valuable Player, is set to become an unrestricted free agent after next season. Durant last month underwent surgery on his right foot.
Oklahoma City had a 45-37 record this season under Brooks, who had taken over as head coach on April 15, 2009 after serving as interim coach during the 2008-09 campaign.
Before it's here, it's on the Bloomberg Terminal.
LEARN MORE