Oil Surges to Four-Month High as Saudi Arabian Jets Strike Yemen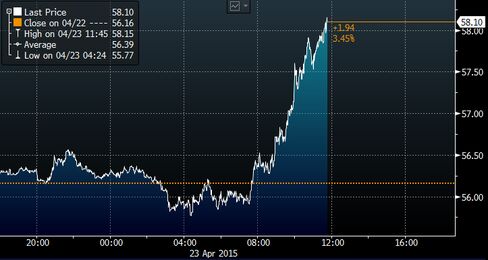 Crude climbed to a four-month high after Saudi Arabia renewed its aerial assault on Shiite rebels in Yemen, bolstering concerns that Middle Eastern oil shipments may be disrupted.
Futures rose 2.8 percent in New York and 3.4 percent in London as the Saudi-led raids marked an escalation of the civil war in Yemen, a country located among major oilfields and adjacent to key shipping routes. The Saudis and their allies had announced an end to air operations on Tuesday.
Oil has rebounded from a six-year low in March on speculation a drilling slowdown and improved fuel demand will help drain excess supply. Any recovery may be short-lived if higher prices encourage producers to resume drilling too quickly.
"My main concern is that there's an unintended escalation of the conflict," Helima Croft, chief commodities strategist at RBC Capital in New York, said by phone. "When there are so many actors in a tense environment you run the risk of an accident that leads to further conflict that nobody wants."
West Texas Intermediate for June delivery increased $1.58 to close at $57.74 a barrel on the New York Mercantile Exchange. It's the highest settlement since Dec. 12. Total volume was 8.9 percent above the 100-day average at 2:54 p.m.
Brent Rally
Brent for June settlement advanced $2.12 to end the session at $64.85 a barrel on the London-based ICE Futures Europe exchange. It's the highest close since Dec. 9. Volume was up 14 percent from the 100-day average. The European benchmark oil settled at a $7.11 premium to WTI.
Prices also rose as a drop in the dollar made raw materials priced in the U.S. currency more attractive to investors. Gains accelerated after Genscape Inc. was said to report a decline in inventories at Cushing, Oklahoma, the delivery point for WTI contracts, from Friday through Tuesday, according to Phil Flynn, senior market analyst at the Price Futures Group in Chicago.
Fighter aircraft from the Saudi-led coalition attacked Houthi rebel militia and troops allied with former President Ali Abdullah Saleh north of Aden, a southern port city, the Saudi-owned Al Arabiya television channel reported Thursday.
The Saudis accuse the Shiite Houthi rebels of being tools of Iran, a claim viewed skeptically by many Western diplomats.
Yemen Tensions
"The focus has been on abundant supply and not geopolitics in the Middle East," Croft said. "Since the North American energy revolution, no one has cared about the four wars in the region. Now we are starting to see attention shift back."
Yemen lies on one side of Bab el-Mandeb, where trade in crude and fuels increased more than 20 percent last year to about 4.7 million barrels a day, according to the Energy Information Administration. The strait is 18 miles wide at its narrowest and tankers moving through it use two two-mile wide channels.
The U.S. oil boom has been driven by a combination of horizontal drilling and hydraulic fracturing, which has unlocked shale formations from Texas to North Dakota. Prices tumbled after the Organization of Petroleum Exporting Countries left its members' output targets unchanged in November, choosing to compete for market share against U.S. shale producers rather than support prices.
U.S. shale output will decline 57,000 barrels a day in May, the EIA said April 13. It's the first time the agency has forecast a drop in output since it began issuing a monthly drilling productivity report in 2013.
Production Slowdown
Crude output fell by 18,000 barrels a day to 9.37 million last week, the EIA said Wednesday. Supplies rose to 489 million barrels, the highest level in data that started in August 1982.
"U.S. oil production has plateaued and according to the EIA shale production is poised to start going down, which is very constructive to U.S. rebalancing," Mike Wittner, head of oil research at Societe Generale SA in New York, said by phone. "The fundamental outlook is improving."
The euro rose the most against the dollar in more than one week on speculation that Greece and its creditors will reach a deal to receive aid payments before the country runs out of money. Equities rose, with the Nasdaq Composite reaching the highest level in 15 years.
"Equities are up and the dollar is weaker, which is spurring a risk on trade," Tim Evans, an energy analyst at Citi Futures Perspective in New York, said by phone. "You're seeing a flow into commodities generally."
Gasoline futures for May delivery rose 7.11 cents, or 3.7 percent, to $1.9956 a gallon, the highest settlement since Nov. 26. May ultra low sulfur diesel advanced 5.31 cents, or 2.8 percent, to close at $1.9239.
The average price for gasoline at the pump advanced 1.2 cents to $2.491 a gallon Wednesday, the highest since Dec. 16, according to the Heathrow, Florida-based AAA, the nation's biggest motoring group.
Before it's here, it's on the Bloomberg Terminal.
LEARN MORE