Mylan $23 Million Chairman Shows Looming Teva Culture Clash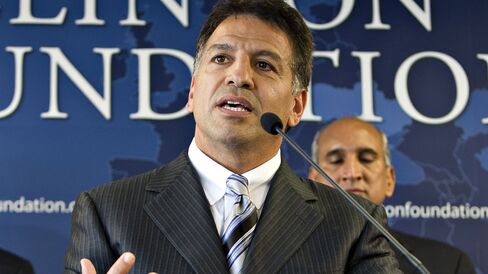 Mylan NV Executive Chairman Robert Coury made $22.7 million, including $1 million for his personal use of the drugmaker's two corporate jets, in 2012 and 2013. At Israeli rival Teva, shareholders in 2012 balked at raising the chairman's salary to $900,000 a year.
The contrast highlights the sharp differences that separate the two companies as Teva Pharmaceutical Industries Ltd. pursues its unsolicited $40.1 billion offer for Mylan, a competing producer of generic drugs based in Pennsylvania.
Merging the two will require them to overcome what Coury called a poor "cultural fit" in a statement the company released April 17 in response to rampant market rumors that an offer might be forthcoming.
Both companies have thrived in the rough-and-tumble world of generic drugs, where lawsuits and bad blood are common. The two grew rapidly through buyouts and Mylan -- used to being the acquirer -- last week batted down Teva's overture. Representatives of the two companies declined to comment for this story.
Though Teva is Israel's largest company and the world's biggest generics manufacturer, it has never lost the frugal, Kibbutz-inspired ethos instilled by its leadership since its founding more than a century ago in Jerusalem.
Three years ago, for instance, then-chairman Phillip Frost got a 74 percent raise to $900,000 a year and an additional $700,000 for private airplane expenses. Investors and long-time employees said the move strayed from Teva's culture of shared sacrifice. Such compensation was "unconscionable," investor Gadi Haber, chief executive officer of Platinum Investment Portfolio Management Ltd., said at the time.
Expensive Renovation
Jeremy Levin, a South African, in 2012 took over as Teva's first CEO born outside Israel. That same year, when Levin ordered a renovation of the company's Spartan headquarters in the Tel Aviv suburb of Petach Tikva, board members derided the $4.5 million cost as a needless expense.
Coury, a tough-talking former financial adviser who in a decade as CEO transformed Mylan from a regional drugmaker into a global player, encounters little such opposition to his spending. The company in 2013 opened a 280,000 square-foot building in Pennsylvania that serves as its de facto headquarters. The name: The Robert J. Coury Global Center.
The contracts of Coury and CEO Heather Bresch allow them to use the company's two jets for personal travel. From 2010 to 2013, Coury racked up $2 million in aviation expenses, including flights to support the electro-pop music career of his son, Tino, whose 2010 single "Diary" reached No. 20 on Billboard's Dance Club chart.
Patriotism
Last year, Mylan agreed to buy the generic drug business of Abbott Laboratories, allowing it to move its titular headquarters to the Netherlands and lower its tax rate even though the company is still run from Canonsburg, Pennsylvania, just south of Pittsburgh. After President Barack Obama criticized so-called tax inversions as unpatriotic, Coury fired back with an editorial in USA Today.
"Calling an inversion unpatriotic is the equivalent of saying Americans are not patriotic when they don't buy American," he wrote. "This is simply not realistic in today's world."
As Mylan has grown, Coury has thrived. In 2010, his total compensation was $22.9 million, and company filings show it has never fallen below $10 million since, even after he moved on to the job of chairman in 2012.
Well-Paid
Coury's compensation dwarfs that of Teva executives. The company's current chairman earns $190,000 a year, and CEO Erez Vigodman -- an Israeli with a reputation as a turnaround specialist who replaced Levin last year -- made $4.5 million in 2014.
While Coury's compensation has been generous, so has Mylan's stock performance. From March 2010 to March of this year -- before speculation about a possible purchase of Mylan started in earnest -- Mylan shares almost tripled. Over that same period, Teva was essentially unchanged.
In at least one respect, Teva and Mylan appear compatible. Both have been acquisition machines, with the Israeli company making 10 purchases since 2009 and Mylan completing nine deals in the same period. And executives at both are known for their plain-speaking style.
At a 2013 investor meeting hosted by Goldman Sachs at a California resort, Coury shot down a speculative question by saying, "I get a little tired of the 'if.' If your aunt had balls, she'd be your uncle, right?"
Big Personalities
Executives at Teva, meanwhile, are "aggressive, action-oriented, and what you see is what you get," said Benny Landa, an investor in Teva who has pressured the company to hire board members with pharmaceutical experience.
Yet such similarities don't necessarily mean much for the potential for cooperation. The business of making generic drugs is aggressive, and producers often face lawsuits as patent-holders fight to protect their interests. So its executives tend to have sharp elbows, said Brian Friedman, who oversees a fund that buys Israeli stocks at GHP Investment Advisors in Denver.
"That's the culture for all generic companies," Friedman said. Both Teva and Mylan "play the same way and the rules are the same."
Before it's here, it's on the Bloomberg Terminal.
LEARN MORE