Markets Mispriced for Miliband as Nomura's Clients See Tory Win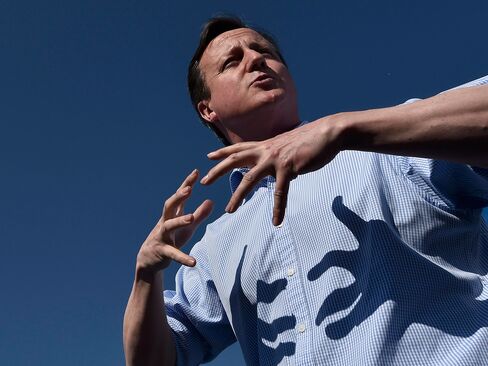 Investors are predicting a Conservative Party victory in next month's U.K. elections, according to Nomura International Plc, raising the prospect of a selloff in the pound should the opposition Labour Party triumph.
More than 60 percent of Nomura's clients expect another Conservative-led government following the May 7 vote, the bank's analysts wrote in a note Tuesday. If Ed Miliband's Labour party wins, the pound will fall against the dollar, according to more than 68 percent of those polled, while 72 percent see sterling climbing or unchanged after a Conservative victory. Goldman Sachs Group Inc. echoed that view, saying the incumbents are seen acting in a more market-friendly manner.
If Labour were to lead the next government, there could be more "U.K. asset-price downside" Nomura analysts including London-based Jordan Rochester, wrote in a note published on Tuesday. "As things stand, it appears that our clients may be surprised by a Labour government."
The vote is the hardest to call in a generation, and neither of the two main parties are seen garnering enough votes to govern alone, polls show. That raises the likelihood of lengthy negotiations to form a government and risks leaving Britain with its first minority administration since the 1970s.
Goldman Sachs analysts including Peter Oppenheimer said investors would react unfavorably to the prospect of Labour relying on the Scottish National Party for support, adding that, given Labour's "mixed record" at handling financial challenges in the past, the possibility of it winning the elections would weigh on sterling.
"The existing Conservative-led coalition has established some credibility in market," the analysts wrote in a note dated April 20. "More generally, a Conservative-led government is expected to react in a more business- and market-friendly manner in the event of unforeseen challenges. Sterling is the asset that appears most at risk from a 'market-unfriendly' election outcome."
The pound advanced 0.9 percent higher to $1.5065 as of 1:30 p.m. in London, up from $1.4566 touched on April 13, the lowest since June 2010.
Before it's here, it's on the Bloomberg Terminal.
LEARN MORE