Iron Ore Had Its Biggest One-Day Jump Since 2012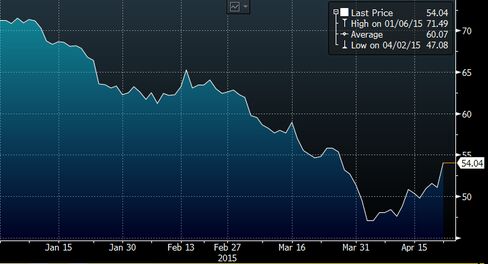 Iron-ore prices jumped after BHP Billiton Ltd. curbed the pace of its expansion program, slowing the final stages of the $120 billion race by the world's biggest producers to raise output.
The price of the steelmaking raw material, trading near a 10-year low, rose 5.9 percent to $54.04 a metric ton on Wednesday, according to data from Metal Bulletin Ltd. That's the biggest gain since October 2012.
A planned $600 million project to reduce bottlenecks at Australia's Port Hedland, the world's biggest bulk export terminal, will be deferred, meaning BHP will miss a target of raising production to 290 million tons a year by mid-2017, the company said in a statement.
Moves by BHP, Rio Tinto Group and Vale SA to increase market share in the face of the price rout has earned the ire of some investors, political leaders and unprofitable rivals. BHP has described the tactic as "squeezing the lemon."
Wednesday's decision will "lower the capital-expenditure profile a little over the next couple of years to preserve free cash flow to support the dividend and balance sheet," Andrew Driscoll, head of resources research at CLSA Ltd., said by phone from Perth, Australia.
"The side benefit of that is that it's supportive of the market and is a move against some of the negative public commentary about surplus supply," he said.
Rio, Fortescue
The postponement follows Rio Tinto's deferral last year of an investment decision on the $1 billion Silvergrass mine until 2016 and Fortescue Metals Group Ltd.'s action in November to abandon building a $105 million processing plant.
In delaying Silvergrass, Rio slowed the pace of progress toward its own 360 million-ton-a-year capacity target, according to Wood Mackenzie Ltd.
BHP's move is "very similar to what Rio have already done," said Andrew Hodge, a Sydney-based analyst at Wood Mackenzie. "Deferring a decision on Silvergrass effectively means deferring when you are going to hit that 360 million-ton target."
BHP shares rose 2.4 percent to A$30.98 at 10:14 a.m. in Sydney, extending its advance this year to 5.5 percent. Rio Tinto jumped 2.2 percent to A$56.41.
With the market forecast to lose about 160 million tons of production this year as higher-cost suppliers shutter mines, the largest companies can relax the chase to raise market share, according to Caue Araujo, Sydney-based iron-ore industry director at the research company AME Group.
"The speed of how quickly they'll meet their production targets can follow market conditions," Araujo said. "That's the smart way of doing this."
Port Hedland
The project to reduce bottlenecks at Port Hedland had been intended to raise capacity by about 20 million tons, Melbourne-based BHP said in October. The expansion had an estimated cost of $600 million, according to RBC Capital Markets.
The company may not be able to meet its planned production goal of 290 million tons without completing the project in the future, according to Wood Mackenzie. Meeting the target will depend on BHP's ability to squeeze more capacity from existing infrastructure, according to RBC.
Fortescue's founder Andrew Forrest has called for a "fair game" on supply, while Western Australia Premier Colin Barnett last week urged suppliers to curb expansions.
Iron-ore prices have slumped by more than half in the past year. Ore with 62 percent content delivered to China's Qingdao port fell to $47.08 a ton on April 2, the lowest since 2005, according to Metal Bulletin.
There's little prospect of a long-term rebound with demand for seaborne supplies likely to peak in 2016, according to Goldman Sachs Group Inc. The global surplus will rise to 108 million tons next year from 74 million tons in 2015, according to HSBC Holdings Plc.
In the shorter term, the expansion continues, with BHP on Wednesday raising its Australian output target for the year through June to 250 million tons.
Before it's here, it's on the Bloomberg Terminal.
LEARN MORE