Hedge Fund That Made 18% on Dollar Strength Now Bets on Drop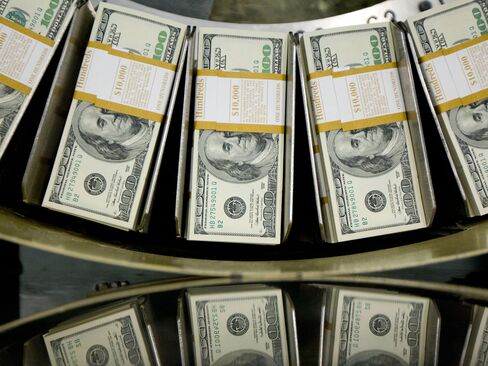 Charlie Chan, a former Credit Suisse Group AG proprietary trader who now runs his own hedge fund, reduced bets the dollar will strengthen and added trades that would profit from a decline.
Chan said he trimmed his fund's long dollar position versus the yen last week after the U.S. currency's rally stalled following gains of more than 10 percent in each of the past three years. He's now betting the greenback will weaken against Asian currencies including Singapore's dollar, South Korea's won and India's rupee, the founder of Singapore-based Charlie Chan Capital Partners said.
A gauge of the dollar has slumped 0.9 percent in April, halting a nine-month rally that propelled it to the highest on record. U.S. retail sales, manufacturing and jobless claims have all missed estimates, leading traders to push back estimates for when the Federal Reserve will raise interest rates.
"The long dollar story was getting a little stale," Chan said in an interview on Wednesday. "Then the U.S. numbers were coming out not as strong as it was anticipated initially."
Chan said his Splendid Asia Macro Fund has returned more than 8 percent this year, adding to its 18 percent gain in 2014. Bets on a stronger dollar and an advance in Japanese stocks boosted its performance, he said. The fund invests in bonds, currencies and stocks in Asia.
'Probably Time'
The dollar has fallen almost 2 percent from a seven-year high of 122.03 yen reached on March 10 to trade at 119.65 at 8:32 a.m. in London. Chan predicts it will extend its decline to as low as 118. Strategists surveyed by Bloomberg estimate the dollar will appreciate about 4 percent versus the yen this year.
"The yen has weakened quite a lot and Japan has eased quite a lot," Chan said. "So, it's probably time to let all this easing work its way through the market. I've always held the view the dollar wouldn't go much beyond 120."
The Bank of Japan kept its record asset-purchase plan unchanged this month as Governor Haruhiko Kuroda sought to spur inflation that has stalled with the tumble in oil prices. Kuroda has made a 2 percent inflation target central to his campaign to revive the economy after two decades of stagnation.
Hedge funds and money managers cut bets to the least since October that the dollar will strengthen, according to data from the Commodity Futures Trading Commission. Net futures positions betting on a stronger greenback against eight major counterparts dropped to 329,939 as of April 14 from 361,335 a week earlier.
The currencies of Taiwan, Korea and India are among the top seven performers this year out of 31 major peers tracked against the U.S. dollar. Developing Asian economies are set to expand by
6.6 percent this year, outpacing global growth of 3.5 percent, according to April forecasts by the International Monetary Fund.
"I'm still mildly optimistic on Asia," Chan said.
Before it's here, it's on the Bloomberg Terminal.
LEARN MORE