Gazprom Bulls Still Say Buy as EU Brings Price-Gouging Complaint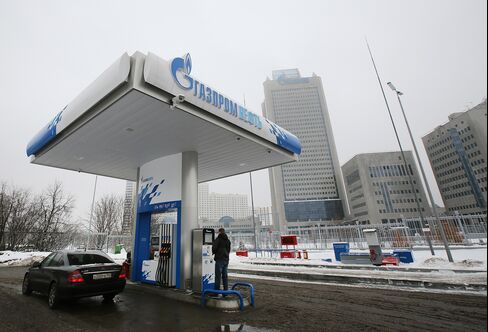 Bank of America Corp., which raised OAO Gazprom to buy last week, is sticking by that call even as the European Union accuses the Russian gas exporter of price gouging, saying their interdependence will force a compromise.
Renaissance Capital Ltd. and UBS AG, both of which also turned bullish on Gazprom in recent weeks, stood by their projections as well. The total number of buy ratings on Gazprom has rebounded from a two-year low in March as the standoff over Ukraine eased, allaying concern the U.S. and EU will seek to further isolate Russia with deeper sanctions.
The stock rose 0.8 percent to $5.73 in London on Thursday after falling 1.6 percent on Wednesday as the EU, whose members get about a third of their gas from Gazprom, accused the state-run company of pursuing an unfair pricing policy and preventing gas from flowing freely in central and eastern Europe. Russia gets about 10 percent of its export revenue from gas shipped to Europe. Karen Kostanian, an analyst at Bank of America, reaffirmed the buy rating, saying that linkage will lead to a settlement.
"Sooner or later Gazprom and the EU will start negotiations, because Gazprom and the European Union are interdependent," Kostanian said by phone from Moscow on Wednesday. "No matter how hard the EU tries to diversify itself from reliance on Russia's gas, there is no alternative to receiving the fuel from Russia at this point. And for Gazprom, the European market is critically important."
European Dispute
Energy relations between Russia and the EU soured last year as tensions escalated over Russia's actions in Ukraine, where it annexed the Crimea region and was accused of supporting an insurgency that's threatened to split the country apart. European officials sought to cut reliance on Russia after supplies of gas piped across Ukraine were earlier disrupted because of the geopolitical tension.
Margrethe Vestager, the EU's competition chief, accused the world's largest natural gas exporter of abusing its dominant market power to impose unfair prices in countries from Poland to Bulgaria by linking what it charges for long-term natural gas contracts to oil prices and by preventing gas from being traded between countries.
The company will have 12 weeks to respond to the EU's antitrust case.
Gazprom said in a statement that the complaint is unfounded and it expects there will be an "acceptable solution" with the help of the Russian government. President Vladimir Putin signed a decree in September giving the government the right to protect Gazprom from EU inquiries.
Bullish Ratings
Analysts have increased the number of buy ratings on Gazprom to nine from five in the past month as a cease-fire in Ukraine held and Brent crude prices stabilized above $50 a barrel after plunging to the lowest level since 2009 in January. The London-traded shares sell for 3.3 times projected 12-month earnings, the cheapest among 16 global peers, data compiled by Bloomberg show.
Bank of America raised the stock to the equivalent of buy from hold, according to an April 17 e-mailed note, saying that a reduction in capital expenses will give the company enough free cash-flow this year to maintain its dividend payout at the current level.
Credit Suisse Group AG reiterated its sell rating on Gazprom on Tuesday. Analysts including Thomas Adolff said in a research note that the stock is "a value-trap rather than a value-play" as Europe will seek to "push against its dependence on Russian gas and diversify supply sources while Gazprom will attempt to pull it back through lower prices."
Market Share
Russia, which supplied about 30 percent of the EU's gas supplies last year, sees the country increasing its share, Alexey Miller, Gazprom's chief executive officer, said at a conference last week. Energy Minister Alexander Novak said the EU has no choice but to rely heavily on Russian gas for at least another quarter century.
UBS analyst Maxim Moshkov, who raised Gazprom to buy from hold last week, said by phone Wednesday that there is no reason to change the rating because the EU dispute "has been going on for many years" and the stock price already reflects all the potential risks.
"Gazprom and the European Union will end up negotiating, and the negotiations might be at the highest levels," Ildar Davletshin, an oil and gas analyst at Renaissance Capital, said by phone Wednesday. "This would benefit both. Gazprom can be a source of cheap fuel for the euro zone for decades, and Gazprom can be assured of big export volumes."
Before it's here, it's on the Bloomberg Terminal.
LEARN MORE