Gazprom Accused of Market-Power Abuse to Raise EU Gas Prices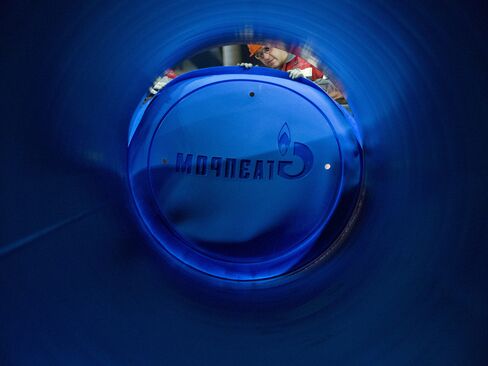 European Union regulators attacked OAO Gazprom's pricing structure throughout the eastern part of the continent, further straining political relations between the 28-nation bloc and Russia.
Margrethe Vestager, the EU's competition chief, said Gazprom may have imposed unfair prices by preventing gas from flowing from certain central and eastern European countries to others. The move comes days after she signed off on a so-called statement of objections to Internet search giant Google Inc.
"All companies that operate in the European market –- no matter if they are European or not –- have to play by our EU rules," Vestager said in a statement Wednesday.
Settlement talks with Gazprom froze as tensions escalated over Russia's actions in Ukraine, where it annexed the Crimea region and was accused of supporting an insurgency that's threatened to split the country apart. Power politics seeped into the case from the start after Russian President Vladimir Putin signed a decree giving the government the right to protect Gazprom from EU inquiries.
"This will certainly not improve the EU-Russia relations," said Paul Ivan, a former Romanian diplomat who is now an analyst with the European Policy Centre in Brussels. "We can expect angry answers and moves from the Russian side, but it will not shatter relations either."
Benchmark Rates
The statement of objections accuses Moscow-based Gazprom of pursuing an unfair pricing policy in Bulgaria, Estonia, Latvia, Lithuania and Poland. The commission said territorial restrictions -- such as export bans -- may result in wholesalers facing prices that are significantly higher than the company's costs or benchmark rates.
In the five countries gas prices can be "up to 40 percent higher than in other countries," Vestager said.
These unfair prices result partly from Gazprom's price formulas that index gas prices in supply contracts to a basket of oil product prices and have unduly favored Gazprom over its customers, the EU said.
Gazprom also implements an "abusive strategy" in the Czech Republic, Slovakia and Hungary, the commission said.
Gazprom responded by saying the complaint is "unfounded" and that it expected there'd be an "acceptable solution" with the help of the Russian government.
Russia hopes the EU case won't be politicized and that a solution can be found during further talks, the country's energy ministry said in a statement.
"The case is definitely political," said Alexander Kornilov, a senior oil and gas analyst at Alfa-Bank in Moscow. He estimates a potential fine at as much as $840 million.
12 Weeks
The company will have 12 weeks to respond to the EU's antitrust complaint can request a hearing.
After Gazprom files its reply, any discussions should take place between the commission and the company in order to avoid politicizing the case, she said.
"A solution can be found in a negotiated manner," Vestager said. But there are also "other solutions."
If any settlement is reached, having to change the way it does business would be more painful for Gazprom than fines, said Robert Cooper, a lawyer at Boies, Schiller & Flexner LLP in Washington.
"Yes they could be subject to a large monetary fine but that is a one-time event, it's quantifiable," he said.
While EU antitrust fines are capped at 10 percent of global yearly revenue, the EU rarely approaches that figure. Penalties are calculated from the market where the company is found guilty of violating competition rules.
Share Drop
The company's shares dropped as much as 3.4 percent in Moscow while Russia's 50-stock Micex index lost as much as 2.4 percent.
Europe imported 27 percent of its natural gas from Russia last year. The bloc imports 53 percent of the energy it consumes at a cost of about 1 billion euros ($1.08 billion) per day, according to the commission.
Gazprom is the dominant gas supplier in a number of central and eastern European countries, the EU said. It has a market share well above 50 percent and in some cases as much as 100 percent in these markets.
The EU today also criticized Gazprom for obliging Bulgaria to invest in a gas-transport project and forcing Poland to let it cement control over a pipeline.
'Strong Signal'
The EU complaint was heralded by Dalia Grybauskaite, president of Lithuania, which urged the EU four years ago to investigate possible market abuse by Gazprom.
"The decision is a strong signal to consumers and the market that rules apply to everyone," Grybauskaite said. "The era of Kremlin backed political and economic blackmail draws to a close."
The EU's antitrust case first hit the headlines in 2011 with raids on Gazprom and its customers. Regulators opened a formal probe the following year, saying sales contracts that linked natural gas to oil prices may no longer be justified because gas was increasingly being traded on spot markets as a shale gas boom expanded supplies.
Gazprom -- much like Google -- sought a negotiated solution with Vestager's predecessor Joaquin Almunia. Vestager, who took over in November, is going down a more adversarial route.
When asked whether her move might mean a cold winter in Europe, Vestager said: "I don't think so."
Before it's here, it's on the Bloomberg Terminal.
LEARN MORE