Fortescue Sells $2.3 Billion of Junk Bonds in Boosted Offering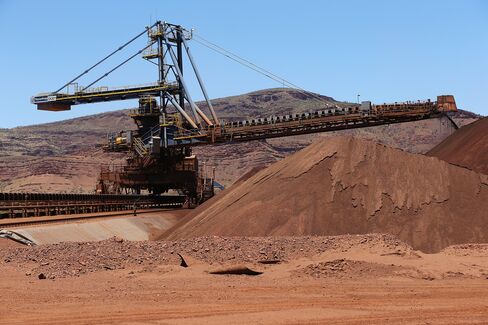 Fortescue Metals Group Ltd., the Australian iron-ore supplier that abandoned a junk-bond sale last month amid a commodity slump, returned to the market Wednesday, raising $2.3 billion by offering higher yields.
The company, which had been planning to sell just $1.5 billion of the seven-year notes, issued the debt to pay 10.25 percent, 2 percentage points more than what it was marketing to investors in March, according to data compiled by Bloomberg and people with knowledge of the discussions last month. Fortescue had planned to sell $2.5 billion in its earlier attempt, and some investors were willing to buy at yields of 9 percent, market participants said then.
"People are looking for yield, and as weak as Fortescue has been, they have a lot of cash which will allow them to hang around for a while," Julianne Bass, a San Antonio-based money manager at USAA Investment Management Inc., which oversees about $50 billion, said in a telephone interview. "That said, most people don't believe they will be among the last ones standing among the iron-ore companies."
Iron-ore prices have slumped by more than half in the past year, plaguing the Australian producer, which has $7.5 billion in net debt. Fortescue has enlisted JPMorgan Chase & Co. to solely manage the bond sale, unlike the March deal, which the bank led with Credit Suisse Group AG, according to another person with knowledge of the matter.
Drew Benson, a Credit Suisse spokesman, and Tasha Pelio, a spokeswoman for JPMorgan, declined to comment on the bond sale.
Ratings Cut
Fortescue, which also abandoned efforts last month to extend a $4.9 billion loan and raise another $2.5 billion of bank debt, had its ratings cut one step to BB, two levels below investment grade, by Standard & Poor's earlier on Wednesday. The downgrade follows a similar move by Moody's Investors Service last week, which also revised its credit view after a global supply glut pushed iron-ore prices down to levels unseen in a decade.
"The downgrades reflect our expectation that Fortescue's financial risk profile will weaken significantly in the next two years due to low iron-ore prices," S&P credit analyst May Zhong wrote in the statement. If Fortescue fails to reduce its costs in line with guidance, the producer's credit metrics would be at risk of further downward revision, S&P said.
The company's U.S. dollar bonds have handed investors a loss of 1.8 percent this year, compared with an average loss of 0.4 percent for an index of high-yield metals and mining debt compiled by Bank of America Merrill Lynch.
Before it's here, it's on the Bloomberg Terminal.
LEARN MORE