Fed Fails to Meet House Deadline for Names of Possible Leakers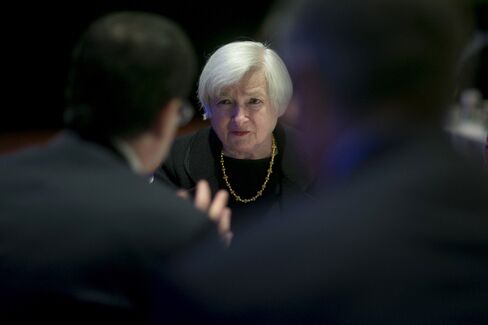 The Federal Reserve failed to meet a House Financial Services Committee deadline on Wednesday to deliver more information about a leak of confidential policy information in 2012.
Republican Representatives Jeb Hensarling and Sean Duffy sent a letter to Fed Chair Janet Yellen last week with an April 22 deadline to disclose the names of individuals who had contact with a market intelligence firm that published details of a 2012 Fed policy meeting.
As of the close of business today in Washington, the House committee had received no response, said spokesman David Popp. Hensarling, of Texas, is the committee chairman, and Duffy, of Wisconsin, heads the panel's subcommittee on oversight and investigations.
Fed spokeswoman Michelle Smith declined to comment.
A report on the September, 2012 Federal Open Market Committee meeting was published by Medley Global Advisors one day before the Fed released minutes of the session.
Medley also received a request in a separate letter with an April 22 deadline from Duffy for "all records" related to information provided by government officials to the firm in preparation for its October 2012 note.
Christopher Chafin, a spokesman for the Financial Times, which owns Medley, declined to comment.
The House Financial Services Committee "intends to thoroughly investigate both the disclosure of confidential" policy information as well as an internal Fed probe of the leak, which it called "inadequate," according to the April 15 letter to Yellen.
A summary of the Fed's internal probe of the leak released last month said "a few Federal Reserve personnel" had contact with Medley, without naming the individuals.
Before it's here, it's on the Bloomberg Terminal.
LEARN MORE