Clegg Attacks Opponents' Election Campaigns as 'North Korean'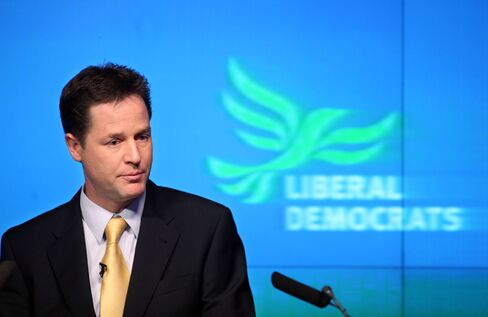 U.K Deputy Prime Minister Nick Clegg assailed campaigns run by his opponents, including Prime Minister David Cameron, as "North Korean" and lacking inspiration as they strive to win voters in the May 7 election.
Cameron's Conservatives, advised by Australian political consultant Lynton Crosby, won't win a majority because they failed to offer anything inspirational, Clegg said Wednesday on a campaign visit to Wales.
"The other parties have always been a bit more North Korean in their campaigning," Clegg, whose Liberal Democrat Party has governed in coalition with the Conservatives since 2010, told reporters. "The Conservatives, under this Australian -- whatever his name is -- appear to have taken the decision to strip their campaign of anything inspirational at all."
Clegg described the campaign as "grindingly negative" and said it was mainly "vilify your opponents, stick to some rather tedious mantra and rather complacently assume the election result will fall into your lap."
Cameron's Conservatives and the opposition Labour Party are neck-and-neck in polls for the general election with the support of about 34 percent of the electorate. Neither is expected to win enough seats in the House of Commons to govern without the support of smaller parties, meaning Clegg, whose Liberal Democrats have about 8 percent support, may again be part of a coalition government.
Lagging Poll
Clegg, who was campaigning in Montgomeryshire, a district his party lost to the Conservatives in 2010, said he still hopes to win back the district despite being so far behind in the polls. Lembit Opik, the colorful Liberal Democrat lawmaker who held the House of Commons seat until 2010, was partly to blame for its loss, he said.
"This is a very, very liberal part of the country," he said. "With the benefit of hindsight, the previous MP and his team maybe took his eye off the ball a bit."
As the campaign enters its final two weeks, Clegg said he expected to see the Conservatives changing their tactics to try to win.
"The much more buttoned up, clinical way that the Conservatives campaign, where risk is eliminated and any spontaneity is verboten, sucks the life out of the campaign," Clegg said. "What we're going to see in the next two weeks is an increasing sense of panic."
Before it's here, it's on the Bloomberg Terminal.
LEARN MORE