Chance to Become Tory Leader Would Be 'Wonderful,' Johnson Says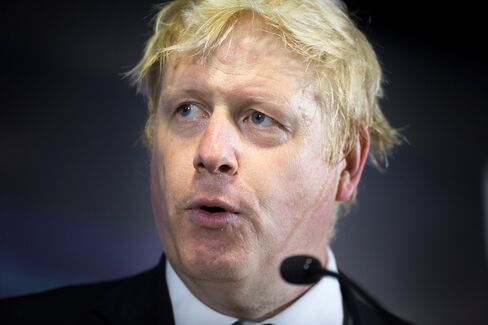 London Mayor Boris Johnson said he would like to lead the Conservative Party if the opportunity arises once Prime Minister David Cameron steps down.
"In the dim, distant future, obviously it would be a wonderful thing to be thought to be in a position to be considered for such an honor," Johnson said in a Sky News television interview Wednesday. "But I think it highly unlikely. As I've said many many times before that it's more likely I'll be reincarnated as an olive or blinded by a champagne cork."
By the time an opportunity arises, "whatever my personal ambitions may be, there will be thrusting young men and women overtaking me," Johnson said.
If Cameron wins the May 7 election, he said last month he wouldn't run for a third term as prime minister, meaning there'd be a leadership contest by early 2020 at the latest. If he loses, he may be out of the job within weeks. Johnson is running for a House of Commons seat on May 7 and is odds-on favorite to win it, giving him a platform to launch an immediate leadership bid should Cameron quit.
Miliband Shift
Though the Tories are still polling neck-and-neck with the opposition Labour Party, the chances of a leadership contest in the short term may be rising. With two weeks to go, forecasters are shifting their view of the likely election result in Labour leader Ed Miliband's favor.
While neither party is likely to get the overall majority of seats in the House of Commons required to govern alone, Labour may be in a stronger position to form alliances in Parliament. That would probably force Cameron, who has been Tory leader since 2005 and prime minister since 2010, out of office and spark a race among senior Conservative lawmakers to replace him.
Johnson, who has led London's municipal government since 2008, is running for Parliament in the west London district of Uxbridge and South Ruislip. He has spent the past month campaigning for Tory candidates in swing districts across England and in the capital, where Labour may gain about six seats.
Johnson told Sky a leadership contest "is at least five years away, which is an eon in British politics." Even so, he's favorite to succeed Cameron as party chief with bookmakers, ahead of Home Secretary Theresa May and Chancellor of the Exchequer George Osborne.
Before it's here, it's on the Bloomberg Terminal.
LEARN MORE