Cameron Favors Sound Bites as Party Leaders Avoid British Public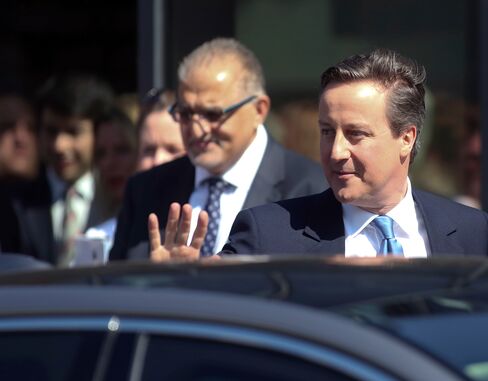 In a 20-minute speech in Bedford on Wednesday, David Cameron delivered what's come to typify the U.K. election campaign: a few sound bites to television and as little interaction with the public as possible.
The prime minister arrived in the commuter town north of London to address a hand-picked audience in a shed manufacturer's warehouse. Assisted by three large teleprompters, Cameron reiterated two of his Conservative Party's key messages: cutting taxes and "making work pay" by curbing benefits. He then headed back to the capital for an appearance on ITV's "This Morning" program.
"Let me explain this, as it's a little bit complicated," he told his audience before describing the Tories' transformation of the benefits system into the Universal Credit plan, slowly being rolled out across the U.K. The 9 a.m. speech was followed by a handful of questions, all from the televised media. Within the hour, he was back on a train.
Labour leader Ed Miliband's campaign appearances have followed a similar pattern. Most of his speeches are invitation-only, and even his question-and-answer sessions are delivered to a selected audience largely supportive of Labour.
While both parties are seeking a last-minute swing in support that will see one of them emerge as the winner, if short of a majority, opinion polls have been static, with both Labour and Conservatives attracting about a third of the vote share each. These results point to a hung Parliament -— with some pollsters predicting an equal number of seats for both parties. There are just two weeks to polling day.
'Bit Artificial'
"The narrative is growing of this campaign being pseudo-events rather than politicians interacting with real people, and this feeds through to people feeling that's it's all a bit artificial," said Tim Bale, professor of politics at Queen Mary University in London. "Both main parties being so locked together has made them even more risk-averse. The fact is they're so close that the consequences of making a mistake are huge. We're unlikely to see a John Prescott punch moment."
In the 1992 campaign, Conservative Prime Minister John Major climbed onto a soapbox in the center of Cheltenham, southwest England, to convince the town to elect John Taylor as its first black Tory lawmaker. In 2001, in the Welsh town of Rhyl, Labour candidate John Prescott punched a member of the public who threw an egg at him while he was out campaigning.
Swing Seat
In 2015 in Bedford, the 26th most vulnerable Tory-held seat, and the 24th most winnable for Labour and thus a key swing district, the only locals likely to have caught a glimpse of Cameron were those waiting on the station platform for the 9:47 a.m. London train.
While Cameron readily answered questions from the two members of the public who stopped to talk to him while walking through his first-class carriage, he has not actively sought to mingle with voters. Similarly, Miliband's conversation with a bride-to-be last week only took place after careful negotiations resulted in her being led onto the Labour campaign bus.
"The stage-managed and plastic nature of this campaigning is unhealthy, and we would like to see much more real interaction, more risks being taken," said Peter Kellner, president of polling company YouGov Plc. "But it's very much a continuation of a trend we've seen in recent years where politicians try to avoid the unexpected. With 24-hour media around, the whole atmosphere conspires for politicians to be cautious."
Closed Doors
Fresh from his TV appearance -- the highlight of which, ITV decided on its website, was a joke about Scottish National Party leader Alex Salmond -- Cameron headed to Surbiton in southwest London, for a campaign event also involving London Mayor Boris Johnson that took place behind closed doors.
Newspaper reporters posted complaints on Twitter that they were being kept away behind a rope in the building's car park.
By 2 p.m., Cameron's motorcade, with police motorcycle outriders stopping the traffic to let it pass, was back at the prime minister's residence in Downing Street in central London, whose high metal gates and a constant armed police presence mean that public and media access is also very strictly controlled.
Before it's here, it's on the Bloomberg Terminal.
LEARN MORE