Cameron and Miliband Stick to Attack in Risk-Averse Campaign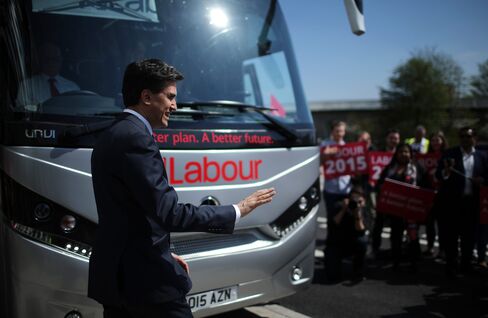 With two weeks to the U.K. general election, Prime Minister David Cameron and his Labour Party challenger, Ed Miliband, are both sticking to their core messages, warning voters of the dangers of the other man.
Cameron's key point for Thursday, in an e-mail to supporters, is that a Labour government supported by the pro-independence Scottish National Party would be a "nightmare." Miliband, meanwhile, accused Cameron of planning "extreme" spending cuts and running a "desperate campaign."
Polls continue to show the two sides tied, and on course to fall well short of a majority. That situation would favor Miliband, who's been promised the SNP's support in a vote on who should form a government. The tightness of the race means the parties are adopting risk-averse campaigning strategies.
"The Tories are committed to the most extreme spending plans of any political party in generations," Miliband said in a speech in Leeds, northern England. "It is a plan so extreme that International Monetary Fund figures show Britain would be facing the deepest cuts over the next three years of any advanced country in the world."
In his e-mail, Cameron told activists that "every vote is crucial." In a reiteration of the Tories' main point for the last week, he said that "the SNP would hold Miliband to ransom –- and have the rest of Britain over a barrel."
'Dangerous Cocktail'
Chancellor of the Exchequer George Osborne reiterated the Tories' warnings about the dangers of electing Labour, saying Britain's economic recovery may be in jeopardy.
"A lot of that is at risk on May 8," he told BBC Radio 4's "Today" program. "We can either go straight back to work" after voting Conservative "or we face this deeply unstable Miliband-SNP government, which creates this dangerous cocktail."
Osborne has pledged to return to budget to outright surplus by 2018, while Labour says it intends to balance the books by 2020 but keep borrowing for capital investment. The Institute for Fiscal Studies said Thursday Labour's plans imply fewer spending cuts, though neither party had provided sufficient detail.
Cameron traveled by overnight train to Cornwall in England's far southwest, where the Tories are hoping to gain three seats from their Liberal Democrat coalition partners.
"This is one of the 23 seats that we need to win in order to form a Conservative majority government," he told Tory activists in Penzance, part of the St. Ives constituency, in a speech that lasted less than 15 minutes. The prime minister later traveled to Brussels for the emergency European Union summit on the growing flood of refugees attempting to cross the Mediterranean Sea.
Before it's here, it's on the Bloomberg Terminal.
LEARN MORE