Bono's Neighborhood Shows World's Hottest Market Wilting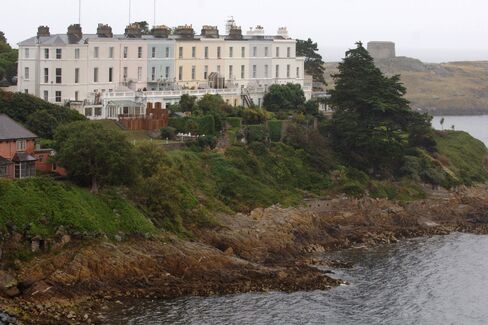 For Tom Kelly, a 68-year-old living in a wealthy neighborhood on the south Dublin coast, the world's hottest property market is cooling at the worst time.
In October, Kelly and his wife offered their five-bedroom home for sale for 1.45 million euros ($1.6 million). Six months and a 14 percent price cut later, the property still hasn't been sold.
"If we had it on the market a year before, we'd be gone by now," said Kelly, who lives in the Dublin suburb of Monkstown. "Suddenly, towards the end of last year, it died off."
Five years after the collapse of its property market forced Ireland to follow Greece and seek an international bailout, the nation's central bank is killing off a new house-price frenzy by capping mortgages.
After rising at a world-beating pace last year, Irish home prices fell in January and February, including declines along the so-called Dublin Riviera, a necklace of upscale neighborhoods such as Monkstown, Dalkey and Killiney, home to U2 star Bono.
"The pace of price inflation has clearly fallen off a cliff," said Ivan Gaine, head of new homes and capital markets at Sherry Fitzgerald, one of the country's biggest real-estate agents. "Last year was too hard, too fast."
Wealthy Market
Ireland's residential property market climbed an annual 16 percent in December, the most in a ranking compiled by the Global Property Guide. Prices rallied last year at the fastest pace since 2005, two years before the market's crash began in 2007.
The spike in values during 2014 pushed homes beyond the reach of many would-be buyers. Unemployment has been above 10 percent since 2009 and hourly pay has barely risen since 2008, even as the economy shows signs of a recovery.
The restrictions on mortgages introduced in January, along with the abolition at the end of last year of a government tax break for investors to buy homes, have also damped demand.
Home prices dropped about 2 percent in January and February, the statistics office said. In Dublin, where about 5,000 homes are for sale, almost 500 sellers changed their asking price so far in April, according to data from property listings website MyHome.ie. About 80 percent of those changes were negative, the data show.
"It's a market for the relatively wealthy," said Tom Dunne, a real-estate lecturer at the Dublin Institute of Technology. "The less well-off are struggling to get into it and are being forced into the rental market."
Visiting Bono
Dalkey, a neighborhood about 3 miles (5 kilometers) from Monkstown whose narrow streets teem with bars and restaurants, is home to some of Ireland's richest people. Bono lives nearby, and brought First lady Michelle Obama to eat in the village when she visited in 2013 with her daughters.
Dalkey resident Tony Corcoran put his four-bedroom, 280 square-meter (3,000 square-foot) home on the market a year ago for 2.4 million euros. The property, which has panoramic views of Dublin Bay, has yet to draw any bids even after Corcoran cut the price to 2.1 million euros in February. A couple of people are now interested, he said.
"Our house is worth the figure it's been posted at," said Corcoran, 67, who ran his own design business before retiring. "If the market isn't there, we'll wait for it to come up to our expectations."
No Repeat
While Ireland doesn't appear to be on the verge of another housing crash, no one is expecting a repeat of last year's gains. Moody's Investors Service predicted earlier this month that prices will climb between 5 percent and 10 percent in 2015. Rob Kitchin, a professor at the National Institute for Regional and Spatial Analysis in the town of Maynooth, said values won't fall by more than 3 percent.
"Even then, prices should come back," Kitchin said. "Population growth and lack of supply should keep prices stable."
Homebuilders completed about 11,000 properties around Ireland last year and 8,300 in 2013, which was the lowest in more than four decades, according to state records. On average, 30,000 houses a year have been built since the 1970s.
Moreover, unemployment is dropping as companies including Apple Inc. and Twitter Inc. hire staff in Ireland and emigrants begin to return. Rents are rising, drawing overseas investors into the Irish market.
In the meantime, Tom Kelly may have to wait a little longer for buyers to arrive at his house, which has been in his family for 70 years. The property is attached to a retail space that he and his wife have used to house a laundromat business.
"That's the way the market goes," said Kelly. "You can't force someone to pay you."
Before it's here, it's on the Bloomberg Terminal.
LEARN MORE