Blankfein Says September Rate Rise 'Unlikely, But Possible'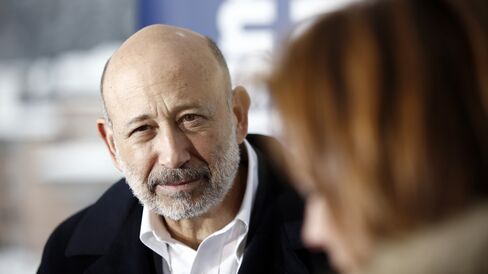 Goldman Sachs Group Inc. Chief Executive Officer Lloyd C. Blankfein said an interest rate increase by the Federal Reserve in September is "unlikely, but possible" as policy makers grapple with a strengthening economy.
The U.S. economic recovery is further along than Europe's and probably China's, Blankfein said Wednesday at an event in Johannesburg. If rates increase, it won't be a source of optimism, although the cause for any tightening would be, he said, adding there haven't been many signs of inflation.
Policymakers have ruled out an increase at the next meeting of the Federal Open Market Committee, on April 28-29. The proportion of economists predicting the Fed will wait until September to raise rates climbed to 70 percent in an April 3-9 survey from 32 percent last month.
China, which has chosen to slow its growth "could be the economic power of this century," said Blankfein, who has run New York-based Goldman Sachs since 2006. The Asian nation, by his characterization, is going from being "short-term greedy to longer-term greedy" in order to enhance the sustainability of economic expansion.
The country's $10.4 trillion economy is decelerating and probably will continue to do so through 2016, according to the International Monetary Fund. The economy expanded 7 percent -- the Chinese leadership's growth target for this year -- in the first quarter, the slowest since 2009 and compared with the 10 percent average from 1980 through 2012.
Following Growth
At the same time Europe is experiencing a recovery, benefiting from the European Central Bank's 1.1 trillion-euro ($1.2 trillion) quantitative-easing program. The ECB estimates that potential growth, which slowed to as little as 0.5 percent in 2014 from above 1.5 percent before the crisis, will "gradually increase" if governments press ahead with structural reforms.
"Goldman Sachs wants to follow growth around the world and also contribute to that growth," Blankfein said. While China is the biggest growth market, "emerging markets are high risk, but ultimately high reward," he said. The firm is investing wherever there is expansion, while scaling the investments to match the risk.
Goldman Sachs is looking for the virtuous cycle, he said, where growth leads to confidence that results in growth.
Before it's here, it's on the Bloomberg Terminal.
LEARN MORE