BlackRock Says 1.5% RBA Rate Possible on Massive Bond Inflows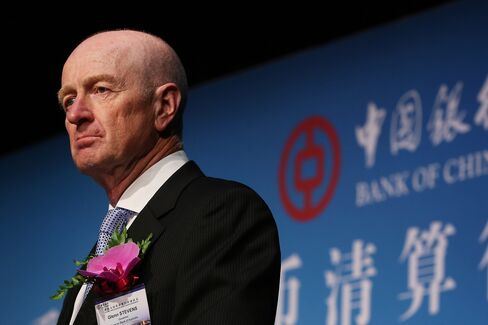 BlackRock Inc. says Australia's central bank may cut its record-low cash rate to 1.5 percent this year as the economy slows and demand for the nation's government debt props up the local dollar.
Unemployment may jump to a 14-year high of 7 percent in 2015 as a catastrophic drop-off in investment and tumbling commodity prices dog the economy, Stephen Miller, head of Australian fixed income at the world's largest asset manager, said Wednesday at a briefing in Sydney. The Reserve Bank will be spurred to reduce its benchmark rate from 2.25 percent as the local dollar remains resilient while Europe and Japan's quantitative easing drive demand for Australia's higher yields, he said.
"We see through our own book, massive flows from Japanese clients into Aussie bond funds and I mean absolutely massive," said Miller, whose company manages $4.77 trillion worldwide. "We see flows into Aussie dollar assets from Europe, all as a consequence of QE and that's why we see the Aussie above what we call fundamental value.
Iron ore has dropped from averaging about $140 a ton in the three years through 2012 to about $50 this year, representing a severe income shock for Australia, he said. Mining investment is collapsing and there is little sign of any sufficiently strong rebound elsewhere in the economy to provide a fresh driver or growth, Miller said.
There will be at least two more rate cuts by the Reserve Bank of Australia this year, and possibly another one after those, he said.
Reluctant Cutters
RBA Governor Glenn Stevens is facing pressure to act again after cutting the benchmark interest rate to a record 2.25 percent in February as the world's 12th-largest economy struggles with the collapse of a once-in-a-century mining boom and a slowdown in China, its biggest trading partner.
''As much as Glenn Stevens might hate it I think that, at the end of the day, all we've got is monetary policy," he said. "The reality for the RBA is they are reluctant cutters," because they would prefer to see aid for the economy come from infrastructure investment or structural reforms.
The Aussie will fall to about 70 U.S. cents by year-end, Miller said. That would be below the 75 cent level that Stevens has said would be preferable for the economy.
Consumer Prices
The Aussie dollar jumped as much as 1 percent to 77.84 cents Wednesday after the statistics bureau said consumer prices rose at an annual 1.3 percent pace in the first quarter, below the 2 percent to 3 percent range the RBA aims for. They climbed 0.2 percent from the final three months of 2014, faster than the 0.1 percent median estimate in a Bloomberg survey.
"If the RBA had it in mind that it wanted to cut in May, there's no way that today's numbers would stand in their way," Miller said when asked about the inflation data. "What I doubt is whether the RBA has made up its mind that it wants to cut in May."
Swaps traders saw about 61 percent odds the RBA will reduce rates when it meets on May 5, according to prices compiled by Bloomberg.
The Aussie was about 2 percent overvalued in February and could still be considered too high to achieve "desired domestic economic outcomes," according to RBA documents released March 6 under a Freedom of Information request by Bloomberg.
Before it's here, it's on the Bloomberg Terminal.
LEARN MORE