Barry Bonds Wins Appeal Voiding Conviction in Steroids Probe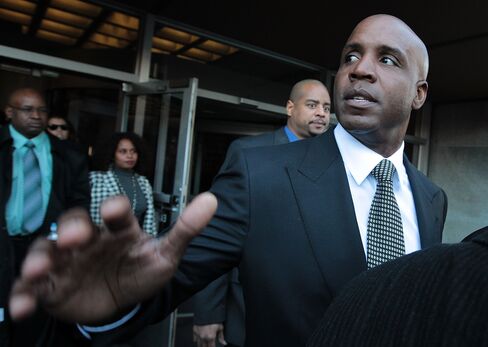 Barry Bonds, Major League Baseball's home run record holder, was cleared of criminal wrongdoing in a probe of athletes' use of steroids more than seven years after he was charged.
Eleven judges on the U.S. Court of Appeals in San Francisco, overturning an earlier ruling by a three-judge panel, on Wednesday set aside the slugger's conviction for obstructing justice, the only charge for which he was found guilty at a 2011 trial.
The court said there wasn't enough evidence to support the charge that Bonds obstructed a grand jury investigating steroid use by giving "a rambling, non-responsive answer to a simple question."
Bonds, when asked in the grand jury whether his trainer gave him self-injectable substances, replied by referring to his childhood as the son of a well-known professional baseball player.
A former San Francisco Giants outfielder, Bonds was named most valuable player a record seven times. He broke Hank Aaron's record of 755 career home runs in August 2007. In November of that year, he was indicted on perjury and obstruction counts.
U.S. District Judge Susan Illston declared a mistrial on the perjury charges after jurors couldn't agree on whether Bonds was lying when he denied knowingly taking performance enhancing drugs.
Perjury Charges
Prosecutors later dropped the perjury counts. Abraham Simmons, a spokesman for U.S. Attorney Melinda Haag in San Francisco, had no immediate comment on the ruling.
The appeals panel concluded Bonds can't be retried, though one judge disagreed with the decision.
"Bonds received a grant of immunity in exchange for his truthful and candid testimony before the grand jury," U.S. Circuit Judge Johnnie Rawlinson wrote in dissent. "Rather than aiding the grand jury in its investigatory quest, Bonds elected to obstruct the grand jury process by giving evasive testimony."
U.S. Circuit Judge Alex Kozinski said the obstruction law used to convict Bonds "poses a significant hazard for everyone involved in our system of justice."
"Making everyone who participates in our justice system a potential criminal defendant for conduct that is nothing more than the ordinary tug and pull of litigation risks chilling zealous advocacy," he said.
Home Confinement
Bonds has served 30 days of home confinement and paid the $4,000 fine imposed after the trial, his lawyer, Dennis Riordan, said last year.
"The really important part of the decision is that it is an acquittal, not just a reversal of a conviction," Riordan said in an e-mail after the ruling. "Ten judges saying he is not guilty of obstruction, that is extraordinarily rare."
Bonds, who retired with 762 home runs, also set the sport's single-season record with 73 in 2001, yet has been snubbed in voting for the Hall of Fame.
In 2013, he was named on 36.2 percent of the vote -- well short of the 75 percent required for induction -- and had percentages of 34.7 and 36.8 the past two years.
Bonds finished his 22-year career in 2007, with a .298 batting average, 1,996 runs batted in and 514 stolen bases while winning eight Gold Glove awards for his defense in the outfield.
The case is U.S. v. Bonds, 07-cr-00732, U.S. District Court, Northern District of California (San Francisco).
Before it's here, it's on the Bloomberg Terminal.
LEARN MORE