AT&T Touts DirecTV Merger as Clouds Form Over Comcast's Deal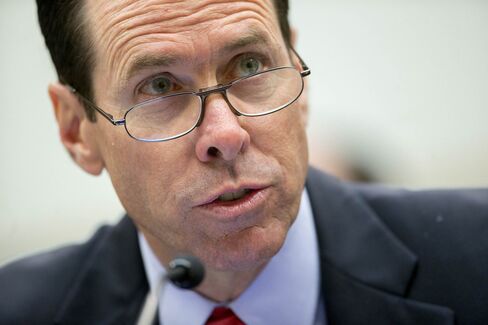 AT&T Inc. and its acquisition target DirecTV told U.S. regulators they would help expand the availability of broadband Internet and offer more competition to cable-TV, as the companies press for approval of a merger proposed almost a year ago.
Combining the largest U.S. telephone company and largest U.S. satellite-TV provider would create a business that could offer bundles of broadband and video, resulting in lower prices, AT&T and DirecTV said in filings Tuesday to the Federal Communications Commission.
The FCC and Justice Department may be nearing the end of their reviews of two mergers that stand to transform the pay-TV industry: AT&T's $48.5 billion offer for DirecTV, and Comcast Corp.'s pending $45.2 billion purchase of Time Warner Cable Inc.
AT&T expects its deal to close this quarter, Chief Financial Officer John Stephens said on a conference call to discuss earnings on Wednesday.
Justice Department staff is said to be leaning against the Comcast deal, with possible concerns including the combined company's share of the broadband market.
The deal by AT&T may emerge "unscathed" because DirecTV doesn't currently offer its own high-speed Internet service, according to Bloomberg Intelligence analysts Geetha Ranganathan and Paul Sweeney.
AT&T Chairman and Chief Executive Officer Randall Stephenson on March 26 asked FCC Chairman Tom Wheeler to approve the transaction "as soon as possible," according to a company filing. The FCC has paused both merger reviews as it awaits a court ruling on document disclosure by CBS Corp. and other programmers.
Closely held Cox Communications Inc., a cable competitor to DirecTV, in an April 7 filing said the merger would bring about "a troubling and unprecedented combination of wireline, wireless, and satellite assets" and asked for restrictions on the new company's behavior.
The deal would reduce choices for video service in areas where AT&T operates its U-verse system, and the FCC should make sure viewers don't face increased prices, the policy group Public Knowledge said in a March 31 filing.
Before it's here, it's on the Bloomberg Terminal.
LEARN MORE