American Airlines CEO Gives Up Cash in Shift to Stock Only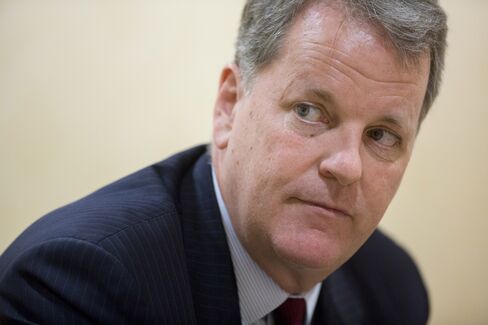 American Airlines Chief Executive Officer Doug Parker voluntarily gave up the cash portion of his compensation and will be paid only in stock.
The change, effective immediately, reflects confidence in the growth opportunities at the world's largest carrier, Parker said in a message to employees Wednesday. Of the stock grants he has been granted, 54 percent is tied to performance and 46 percent will vest over time, according to a corporate filing.
"The message it sends is pretty clear that the CEO is fully on board and in line with the shareholders," said Kevin Kuschel, a director at Longnecker & Associates, a Houston-based firm that consults on executive pay. Parker is "willing to take the downside risk to the stock and ride the upside along with the shareholders."
With the switch, Parker, 53, joins only four other chief executives at companies within the Standard & Poor's 500 Index who annually earn $1 or less in cash. American had a record profit in 2014, the first full year Parker served as CEO after a merger with US Airways, and he has forecast the airline will top that in 2015.
The other CEOs are Mark Zuckerberg at Facebook Inc., Kinder Morgan Inc.'s Rich Kinder, Larry Page of Google Inc. and Fossil Group Inc.'s Kosta Kartsotis, according to data compiled by Bloomberg. Unlike Parker, they don't receive stock awards.
American shares have more than doubled since the merger was completed under Parker in December 2013.
Typical Pay
Stock compensation typically makes up about 60 percent to 70 percent of a CEO's pay package, so incentives are already aligned with shareholders, said Kuschel, whose firm's clients include Southwest Airlines Co. Only about 10 percent of CEO pay is usually tied to a fixed salary, he said.
Parker is the longest-serving CEO among his peers at major U.S. airlines. He took the top spot at America West Airlines Inc. in 2001, orchestrated a merger with US Airways in 2005 and then ran the new carrier until his successful quest to combine with American.
"I believe this is the right way for my compensation to be set -- at risk, based entirely on the results achieved, and in the same currency that our shareholders receive," Parker said in the letter.
Investors will view Parker's move as a positive, Kuschel said. Still, there can always be unintended consequences when a board tries to motivate a CEO's behavior.
"You do have that risk of overleveraging the equity side of compensation and potentially having too much focus on stock price-related metrics rather goals that could position the company better for the future," Kuschel said.
Parker said he was paid $12.3 million in 2014, 40 percent of which was in cash.
Before it's here, it's on the Bloomberg Terminal.
LEARN MORE