After Losing Over $7 Billion in 2014, Jeff Bezos Has Made a Huge Comeback
Basking in the glow of Amazon's surge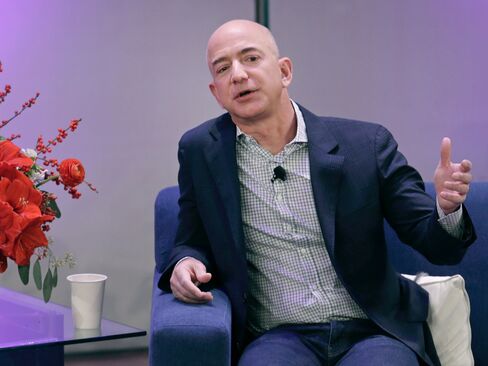 Jeff Bezos has plenty to crow about these days. Amazon.com Inc. shares have risen 26 percent in 2015, beating the single digit climbs for both the NASDAQ Composite index and the S&P 500 Index. That makes Bezos the best-performing U.S. technology billionaire this year with a 24 percent jump in net worth. It was a sharp turnaround for the Amazon founder, who was 2014's worst performer when he lost more than $7 billion, a 20 percent fall.
Amazon shares spiked in late January after the company's fourth-quarter earnings report showed increases in operating profit, Prime memberships and cloud computing customers. Amazon has been winning praise for its success in cloud computing, which it entered in 2006 after Sun Microsystem Inc.'s plans to create a "grid engine" two years earlier faltered. Google Inc. is also playing catch-up to Amazon with its own cloud storage services effort and has been adapting its search technology in the hopes of thwarting consumers' growing tendencies to use Amazon and not Google to look for products they want to buy.

The increase has given Bezos a decisive lead over Google co-founder Larry Page in 2015 performance. Page has risen 2.6 percent since Jan. 1. Bezos is now $100 million away from surpassing Alibaba Group Holding Ltd.'s Jack Ma, who's risen $6.9 billion year-to-date.
Before it's here, it's on the Bloomberg Terminal.
LEARN MORE