Why Turkey's Central Bank Isn't Rattled by Worst Currency Slump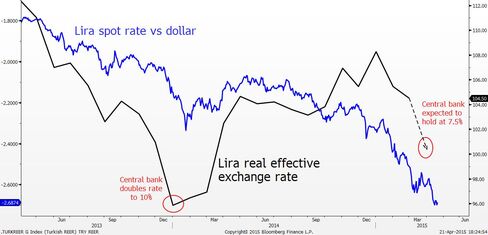 This year's worst-performing emerging-market currency isn't as weak as it first appears.
Even after the lira fell to repeated records this month, once inflation is taken into account it's still stronger than it was in January 2014, when its runaway decline forced the central bank to more than double its benchmark interest rate at an emergency meeting. Policy makers meeting on Wednesday kept all three of their key rates on hold.
The chart shows the lira's spot price fell to an all-time low 2.731 against the dollar on April 15, 12 percent weaker than last year's then-record 2.39. The real-effective exchange rate, or REER, was at 104.5 in March, 8.3 percent higher than 2014's low.
"The central bank will not hurry to hike rates before seeing more significant overshooting" in the REER index, Erkin Isik, a strategist at Turk Ekonomi Bankasi AS, said by e-mail last week. Policy makers probably won't take action until the rate drops to about 96, he said.
The REER index measures a currency's relative strength by adjusting for inflation differentials between a country and its trading partners.
Concern over the outcome of elections in June and the timing of a U.S. rate increase has weighed on Turkish assets this year, while government interference in central bank policy and quickening inflation have hastened their decline.
Tight Liquidity
The lira has lost 14 percent in 2015, more than 23 other developing-nation currencies tracked by Bloomberg. Two-year note yields have surged 187 basis points and are more than a percentage point above their 10-year peers, the most in more than three years.
Even after consumer-price growth accelerated for the past two months, to 7.6 percent in March, it's down from as high as 9.7 percent last May.
The central bank isn't just relying on its main interest rates to support the lira. Last week, it gave advance notice of possible measures that may have been discussed at today's monetary policy committee, while the bank has also kept liquidity tight, pushing up the cost of funding.
The lira weakened 0.9 percent to 2.7106 versus the dollar as of 3:40 p.m. in Istanbul.
(An earlier version of this story corrected the name of the bank in the fourth paragraph.)
Before it's here, it's on the Bloomberg Terminal.
LEARN MORE