United Technologies Beats Views Amid 'Overwhelming' Dollar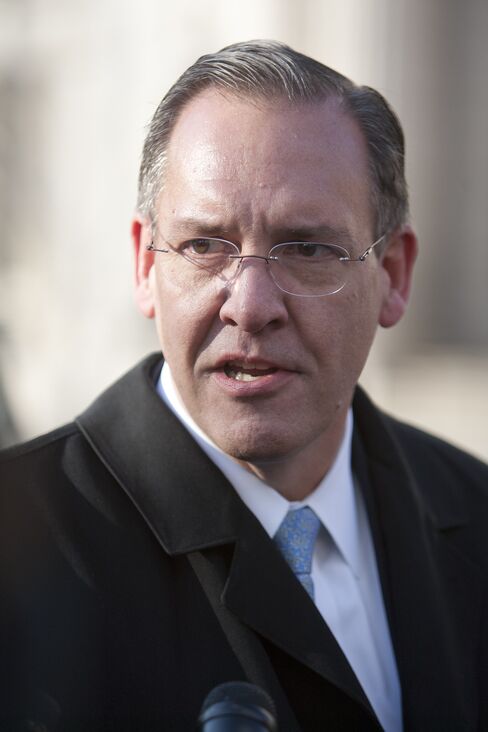 United Technologies Corp. beat analysts' first-quarter earnings estimates, buoyed by cost-cutting measures that boosted profitability even as the strength of the U.S. dollar weighed on foreign sales.
In his first full quarter as chief executive officer, Gregory Hayes confronted currency headwinds while seeking to drive sales for products spanning Otis elevators to Pratt & Whitney jet engines to Carrier air conditioners. About two-thirds of United Technologies' revenue comes from outside the U.S., including about 30 percent in Europe, Hayes said.
"The A-number one issue that's facing UTC this year is FX, or foreign currency," Hayes said Tuesday in a telephone interview. "The top line is growing nicely in the core markets, but currency is just such an overwhelming impact."
Earnings from continuing operations were $1.58 a share, topping the $1.46 average of 17 estimates compiled by Bloomberg. The effects of foreign currency reduced earnings by 7 cents a share, the Hartford, Connecticut-based company said.
The shares rose 0.4 percent to $116.95 at the close in New York, extending their gain this year to 1.7 percent. That compares with a 1.9 percent advance for the Standard & Poor's 500 Index.
Sikorsky Exit
Hayes, who took over in November after Louis Chenevert abruptly resigned, is reviewing the company's portfolio and said he wouldn't shy away from major changes, including acquisitions or divestitures. He said last month that the Sikorsky helicopter unit would be spun off or sold. While there are potential buyers, Hayes said he expects the board to announce plans in June for a spinoff because of the favorable tax implications.
Hayes also said he is looking at potential acquisitions larger than the company's placeholder target of $1 billion in 2015.
"It's like a Ferrari," Hayes said. "'There's a lot of beautiful things out there to buy, but they're very expensive."
Revenue fell 1.4 percent to $14.5 billion, missing analysts' average estimate of $14.9 billion. Sales rose 2.8 percent in the company's aerospace system unit and were little changed at Pratt.
Sales fell 6.9 percent in Sikorsky. The unit's commercial aftermarket business was hurt as lower oil prices lead to a pullback in exploration and production activity, Chief Financial Officer Akhil Johri said on a conference call with analysts.
The surging U.S. dollar has weighed on sales for manufacturers like United Technologies that sell overseas. The euro lost 11.2 percent of its value against the greenback this year through Monday, falling to $1.0738. United Technologies is projecting that the euro will average $1.10 this year.
Profit Margin
The company has emphasized cost controls as a way to improve profitability, Johri said in an interview, while declining to give specifics. The segment operating margin rose 1.3 percentage points in the quarter to 15.8.
The U.S. commercial building market is improving, while Europe is also showing signs of "a little bit of recovery," Hayes said. In the Otis unit, which depends heavily on commercial construction, new equipment orders rose 8 percent, United Technologies said.
United Technologies' results were "a bit better than expected," according to a note to clients by Howard Rubel, a Jefferies LLC analyst, who cited the 6 percent gain in equipment orders at the climate, controls and security business. He rates the shares a buy.
United Technologies reiterated its 2015 earnings forecast of $6.85 to $7.05 a share. The company said it has already completed its planned $3 billion share buyback.
Before it's here, it's on the Bloomberg Terminal.
LEARN MORE