Togo President Says He's Confident of Electoral Process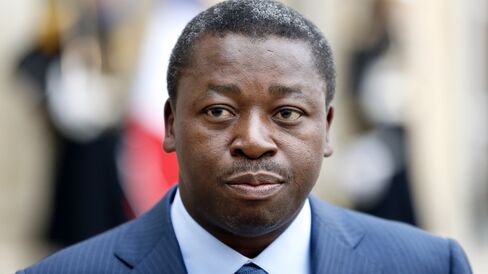 Togolese President Faure Gnassingbe said he is confident about the country's electoral process and constitutional reforms as the country prepares for elections on April 25.
"We must consolidate the stability of the country through elections and reforms to help Togo consolidate national cohesion," Gnassingbe said in an interview on Tuesday in Tsevie, 30 kilometers (19 miles) north of the capital, Lome.
Togo delayed elections by 10 days after the opposition and regional political leaders said more time was needed to review voter rolls. Opposition leader Jean-Pierre Fabre earlier wrote to Gnassingbe, saying the collection of ballots by phone, text message and fax in addition to polling stations violated the country's electoral code.
Ghanaian President John Dramani Mahama, who is head of the Economic Community of West African States, on Monday said political parties "and other stakeholders are satisfied with the outcome of the electoral register."
Before it's here, it's on the Bloomberg Terminal.
LEARN MORE