Saudis Call Halt to Yemen Operation Saying It Achieved Goals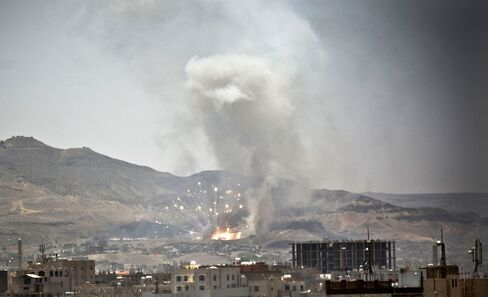 Saudi Arabia called a halt to its campaign of airstrikes in Yemen, saying its goals were achieved and the focus will move to reviving political talks, though it didn't rule out further military action.
Operation Decisive Storm, the four-week bombing campaign against the Shiite Houthi rebels who have the upper hand in Yemen's civil war, succeeded in eliminating threats to the kingdom and allies, according to a statement read out on state television. Heavy weapons and ballistic missiles held by the Houthi rebels have been destroyed, it said.
A new operation will seek to protect civilians, distribute aid and restart talks, Ahmed Asseri, a spokesman for the Saudi-led coalition that carried out the airstrikes, told reporters at a televised press conference. He said that may also include the use of force, though on a smaller scale.
Saudi Arabia, the world's biggest oil exporter, and its mostly Sunni Muslim allies have been seeking to roll back gains by the Houthis. The intervention has escalated the conflict in Yemen, a country located among major oilfields and adjacent to key shipping routes, where al-Qaeda has already benefited from a power vacuum to establish a base.
Oil Decline
Oil prices extended declines after the Saudi announcement. Brent crude dropped 2.2 percent to $62.08 per barrel at 6:20 p.m. in New York. It had risen more than $6 a barrel since the start of the Saudi-led bombing in late March.
The Saudis accuse the rebels of being tools of Iran, a claim viewed skeptically by many Western diplomats. In the past year the Houthis have advanced from their northern base to occupy the capital, Sana'a, and then push Saudi-backed President Abdurabuh Mansur Hadi from his remaining stronghold in the southern port of Aden. He fled to Saudi Arabia.
In a televised speech in the early hours of Wednesday, Hadi thanked the Saudis and their allies, urged Yemen's army to unite behind his legitimate government, and vowed to return to Yemen and help rebuild the country once it has been "rid of traitors." He didn't say how long that may take.
Iran welcomed the Saudi announcement. "A halt to the killing of innocent and defenseless people is a step forward," Foreign Ministry spokeswoman Marzieh Afkham said late Tuesday, according to Press TV. Foreign Minister Mohammad Javad Zarif said on Twitter that the country now needs urgent humanitarian aid, and Iran is ready to help.
U.S. Help
Abdulmalik al-Ejeri, a member of the Houthi political department, declined to comment on the Saudi announcement when reached by phone, saying he was waiting for the group's "official position."
The U.S., which provided logistical and intelligence support for the Saudi-led bombing campaign, didn't immediately comment on the decision to end it. The U.S. counted Hadi's government as an ally against the active al-Qaeda branch in Yemen. The Houthis, who have been fighting against the jihadists for years, have accused Hadi of covertly helping al-Qaeda.
The United Nations was brokering talks between Yemen's political groups before the conflict escalated and the Saudis intervened. Houthi leaders have said they are ready to resume the talks, though only if they're sponsored by a neutral party.
Airstrikes earlier on Tuesday hit targets including a military post west of Sana'a and Houthi positions in the southern province of al-Dali, whose deputy governor, Ahmed Muthana, said by phone that more than 30 people were killed in the bombing and fighting.
Speaking from Aden late on Tuesday, Saleh Salem, a local resident, said by phone that there had been no airstrikes for a couple of hours, though fighter jets could still be heard overhead. There were fierce clashes in the southern port earlier on Tuesday between Hadi's local allies and pro-Houthi forces, with at least 20 people killed according to officials.
Before it's here, it's on the Bloomberg Terminal.
LEARN MORE