Publicis Quarterly Sales Surge on Exchange Rates, Takeovers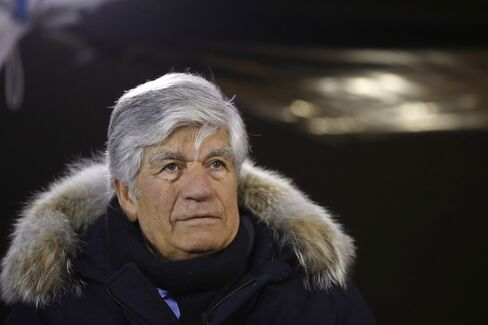 Publicis Groupe SA, the owner of advertising agencies including Leo Burnett and Saatchi & Saatchi, said first-quarter sales soared 32 percent as the weaker euro and the acquisition of Sapient Corp. added to earnings.
Revenue in the period was 2.1 billion euros ($2.3 billion), the Paris-based company said in a statement Tuesday. That beat the 1.99 billion-euro average estimate of analysts in a Bloomberg survey. Organic growth, which strips out effects from acquisitions and currency swings -- and by which the ad industry judges its performance -- rose just 0.9 percent.
Publicis Chief Executive Officer Maurice Levy, who bought U.S. digital agency Sapient for $3.7 billion in November to drive digital growth, said the company's second quarter will beat the first with modest growth that will become "considerably stronger" in the second half of this year.
Shares of Publicis advanced 5.1 percent to 76.02 euros at 9:43 a.m. in Paris.
Publicis, the third-largest advertising company, a year ago abandoned a $35 billion merger with Omnicom Group Inc. that would have created the world's largest ad company because of disagreements over how to run the combined entity. Last year Publicis cut its full-year sales forecast and said the company's performance weakened because managers were distracted by the failed combination. After buying Sapient, Publicis predicted that half its sales will come from digital operations this year.
Growth Forecast
Sales in North America rose by 45 percent to 1.15 billion euros, followed by Europe with an increase of 21 percent to 575 million euros. Fast-growing markets including Russia, India and China rose by 13 percent to 215 million euros.
Publicis said in December revenue will grow at 2 percentage points above the industry average each year from 2016, with digital operations rising to 60 percent of sales in 2018. It predicted the operating margin to rise to between 17.3 percent and 19.3 percent of sales in 2018, compared with 15.3 percent in 2012.
Levy said in today's statement the company's exposure to digital operations will continue to improve margins, without elaborating on figures.
Levy, who was worked as CEO for the past 30 years, is planning to step down from the role in two years. The Frenchman led Publicis into the digital age, as advertising shifted from spreads in newspapers and magazines to digital pop-ups and banner ads on the Web. Levy has also overseen acquisitions of Internet advertising firms such as Sapient, Digitas, LBi International and Razorfish, and pushed the company to new business in emerging markets.
Publicis had new business in the first quarter from brands including Nivea, Toyota, Mercedes-Benz and Michelin.
Before it's here, it's on the Bloomberg Terminal.
LEARN MORE