Oil Companies Are Getting a Second Chance in the Bond Market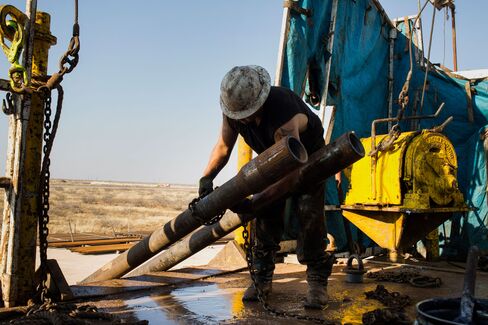 Energy companies desperate to head off a potential funding squeeze are getting a second chance in the bond market, allowing them to keep drilling as they seek to weather the oil-price slump.
Halcon Resources Corp., run by one of the architects of the U.S. shale boom, sold $700 million of bonds Tuesday that pay junk yields while pledging assets to back the debt. The Houston firm joins explorers Energy XXI Ltd. and Goodrich Petroleum Corp. in leading almost $10 billion of second-lien bond offerings in the U.S. this year, a record pace for issuance of such securities, according to data compiled by Bloomberg.
The firms are getting a lifeline as banks shrink credit lines that are tied to the value of oil reserves. They've been able to pile on new debt because their existing obligations -- most of which were issued at the height of the shale boom -- exclude borrowing restrictions typically demanded by junk-bond investors. Those debtholders are now being punished because the new creditors are getting a stronger claim on assets.
"It's kind of the last bullet in the chamber for a lot of these companies in the most precarious situation," John McClain, a money manager who helps oversee $16 billion at Columbus, Ohio-based Diamond Hill Investment Group, said in a telephone interview. "We saw weak covenants across the broader energy space, so the ability to do second liens was certainly there. It is a negative for unsecured holders, as it's diluting your claim."
Bank Squeeze
Oil companies are facing cuts to their credit lines this month as banks reevaluate the maximum amount they can borrow, a determination based on the value of their oil reserves. The loans are typically reset in April and October, meaning the squeeze happening now may get worse.
Crude prices have dropped more than 47 percent to $56.50 since peaking at $107.26 in June.
While some oil and gas explorers have been shut out of capital markets altogether, stabilizing oil prices are prompting investors to lend to those with the best shots at survival.
"Companies are willing to pay for liquidity," said Christian Hoffmann, a money manager who helps oversee $65 billion at Thornburg Investment Management Inc. in Santa Fe, New Mexico. "Second-lien debt is a lever a lot of energy companies are pulling to access liquidity at a time when it's not always easy to access capital markets."
Halcon Sale
Halcon boosted the size of its second-lien bond sale by 40 percent yesterday after offering a yield of 8.625 percent, data compiled by Bloomberg show. At the same time, the company's $2.8 billion of unsecured bonds dropped, losing $86 million of market value.
Its biggest bond, $1.35 billion of 8.875 percent notes fell to 78.6 cents on the dollar on Tuesday, down from as high as 109.3 cents at the oil-price peak in June, according to Trace, the bond price reporting system of the Financial Industry Regulatory Authority.
Scott Zuehlke, a spokesman at Halcon, didn't return calls seeking comment on the company's bond offering.
Debt Boom
"We're not the kind of company that sits around in hopes that things get better over time," Floyd Wilson, Halcon's chief executive officer, said during a Feb. 26 earnings call. "We're constantly thinking about ways to strengthen our balance sheet."
Halcon, like most of its peers in the shale boom, has been spending money far faster than it makes it. The company owes $19.58 for every barrel of oil equivalent in proven reserves, the most out of the 61 companies in the Bloomberg Intelligence North America Explorers & Producers index for which data is available.
The company said Tuesday that it will use proceeds from the sale to pay off part of its credit line. It said it expects banks to lower the borrowing base to $900 million from $1.05 billion.
Energy XXI sold $1.45 billion of bonds in March to help repay borrowings on its credit line and head off a potential squeeze by its banks. That came at one of the steepest rates for any junk-rated borrower in the U.S. market this year, with a yield of 12 percent on the notes.
The company's $650 million of 6.875 percent unsecured notes have declined 17 cents to 35.75 cents on the dollar since its second-lien offering was announced, Trace data show.
Goodrich Petroleum said in March it agreed to sell $100 million of second-lien notes to help repay a credit line that was being cut. The company owes $12.47 for every barrel of oil equivalent in proven reserves, the second-most among companies in the Bloomberg Intelligence E&P index for which data was available at year-end.
"Second-lien paper can provide liquidity necessary for a company to survive," Diamond Hill's McClain said. "Most hedges roll off toward the end of this year or early next year. That's when they will start to feel the pain if they haven't been able to clean up the balance sheet."
Before it's here, it's on the Bloomberg Terminal.
LEARN MORE