Kaisa's Kwok Said to Tell Sunac Sale Unchanged After Return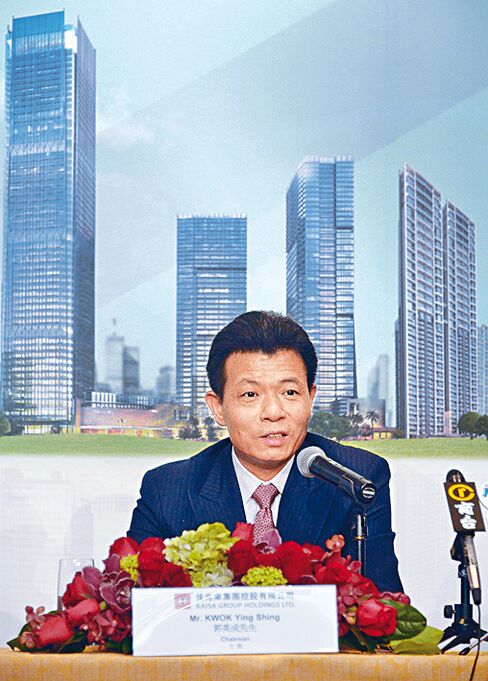 Kaisa Group Holdings Ltd. founder Kwok Ying Shing indicated to Sunac China Holdings Ltd. that he has no plan to cancel or alter an agreement to sell his family's 49.3 percent stake, people with knowledge of the matter said.
Kwok confirmed his commitment to the deal last week after being reappointed as chairman of the troubled Chinese developer, the people said, asking not to be identified as the discussions were private. Sunac has also offered to acquire the rest of Kaisa.
Kwok's assurances may ease speculation that his return as chairman, three months after he resigned amid a corruption probe, could derail an acquisition that would save the cash-strapped company from liquidation. Kaisa became the first Chinese developer to default on its U.S. currency debt when a 30-day grace period on $52 million of missed interest payments on two dollar-denominated bonds expired on Monday.
"That's at least positive for Kaisa" as it means Sunac will still be trying to keep the company afloat and restructure its assets, Jeffrey Gao, a property analyst at Nomura Holdings Inc., said by phone from Hong Kong. "All parties' interests will be hurt if the deal falls through."
The company's $800 million of 8.875 percent 2018 notes rose 2 cents to 56 cents on the dollar as of 11:38 a.m. in Hong Kong, paring a 7.6-cent slump Monday. Its 2017 debentures slipped 2.2 cents to 55.6 cents on the dollar, after a 7-cent decrease, Bloomberg-compiled prices show.
Debt Restructuring
Offshore bondholders didn't agree to a proposal that sought debt relief, including interest cuts, by an early-bird deadline last month. Overseas creditors don't understand how serious Kaisa's situation is, Sunac Chairman Sun Hongbin said at a March briefing in Hong Kong. "When they see the state Kaisa is in, they will see that our proposal is reasonable," Sun said then.
A debt-restructuring agreement with Kaisa creditors, which is being threatened by the delay of its audited results, is a condition for completing the deal, Sunac has said. On March 31, Kaisa said it postponed its results announcement for 2014 because auditors needed more time to verify its accounts, the same day its shares were suspended from trading in Hong Kong.
'Significant Problems'
Kaisa's auditor, PricewaterhouseCoopers LLP, found "significant problems" with its annual financial report, the 21st Century Business Herald reported last week, citing an unidentified Kaisa board member. PwC is still auditing the annual report, a Kaisa investor relations official said Tuesday. The official said Kaisa would announce any termination of a deal with Sunac publicly.
Sunac found during due diligence that Kaisa had a loss last year instead of a profit as the company projected, people familiar with the matter said last month. Kaisa confirmed the loss later. In a February filing, the company disclosed a doubling of outstanding debts in the six months ended Dec. 31.
Kwok's return had triggered speculation that he would call off the deal after the government in Shenzhen lifted a blockage on Kaisa's local projects that drained cash flows. Kaisa removed three management staff appointed by Sunac, local news outlet Caixin reported last week, citing an internal Kaisa company notice.
Sun said April 14 on his Weibo microblog that his company's proposed acquisition of Kaisa is proceeding as planned, without elaborating. Phone calls to Sunac's Tianjin-based media office went unanswered.
After reading news reports and seeing Kwok's return, "people's initial response was that the deal is probably dead," Gao said. "But what's the situation with their assets, what's in the annual report, and why did the boss come back, we really don't know."
Kaisa sold seven projects in Guangdong province's Dongguan city for 1.6 billion yuan ($258 million) at the end of last year without publicly disclosing the information, China Business News reported late on Monday, citing unidentified people.
Kwok hasn't returned to work at Kaisa's headquarters in Shenzhen, the people with knowledge of the matter said. The developer is said to be linked to an investigation of the city's former security chief Jiang Zunyu.
— With assistance by Dingmin Zhang
Before it's here, it's on the Bloomberg Terminal.
LEARN MORE