Why You Shouldn't Keep Your Pregnancy Secret at Work
Research suggests that being open about pregnancy at work could be better for your career than covering it up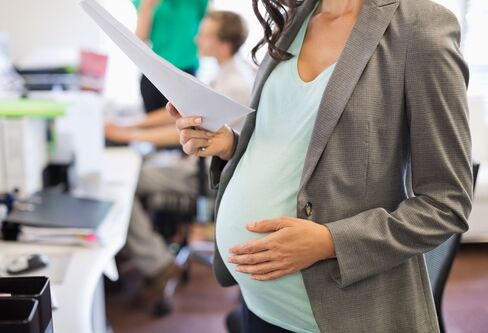 The workplace isn't always a friendly place for pregnant women. (Just ask the U.S. Supreme Court, which decided a case last month that could make it easier for some women to sue their employers for pregnancy discrimination.) Yet working women inclined to conceal a pregnancy from prying coworkers may be better off opening up and carrying on, according to a new study.
In a paper that appeared in the spring issue of The Academy of Management Journal, researchers from the University of Georgia, the University of Houston-Clear Lake, Oklahoma State University, and the Connection, a nonprofit, looked at three studies based on surveys of hundreds of pregnant workers. They found that women usually try to keep up their professional image in one of two ways. Some hid their pregnancies as long as they could beyond the first trimester, wearing baggy clothes to hide a growing baby bump, masking morning sickness, or shrugging off questions about being pregnant. Others were open about their situation but tried hard to maintain the status quo, focusing on working the same number of hours as before.
The researchers found that women who were stoic but upfront about their pregnancies were more likely to return to work after giving birth—and less likely to feel discriminated against or suffer burnout. Those who kept it under wraps didn't experience the benefits.
When women revealed pregnancy earlier and kept up with work, "it had positive effects on so many levels—both for the individual [and] for the organization," says Virginia Smith Major, a co-author of the paper and director of learning and organizational development at the Connection, a social services nonprofit. While the researchers weren't sure why women who engaged in what they called "image-maintenance" strategies seemed to reap benefits at work, it could be, Major says, that "those more proactive strategies gave women more of a sense of control over their professional lives."
The research comes at an interesting time. Working women and advocates alike have criticized companies for either openly discriminating against pregnant employees or forcing their hand with restrictive policies. As my colleague Clare Suddath's reporting has shown, women have plenty of incentives to hide pregnancy: Many have been forced into unpaid leave, let go, or snubbed while job-hunting, despite U.S. laws forbidding firing or demoting employees simply because they're pregnant. "Women might worry their coworkers will think they're not going to return to work, or that their pregnancy is going to make them more emotional," Major says.
Although the researchers found benefits in a strategy that involved being open at work about pregnancy, the rewards tended to come after women made efforts to maintain their workloads and didn't ask for special accommodations—not cases in which women faced complications that required them to take more time off. The fact that a large share of women still fear how pregnancy might derail their careers shows that "companies have a way to go in doing right by pregnant workers," says Laura Little, a professor at the University of Georgia and a co-author of the paper.
The research by Smith and her colleagues suggests that the way women choose to respond to—or cover up—pregnancy can have a tangible effect on their health. The best way to be pregnant at work might be to flaunt it—as long as you don't dare ask for a rest.
Before it's here, it's on the Bloomberg Terminal.
LEARN MORE