Honduras Bond Sale Not Needed After IMF Deal, President Says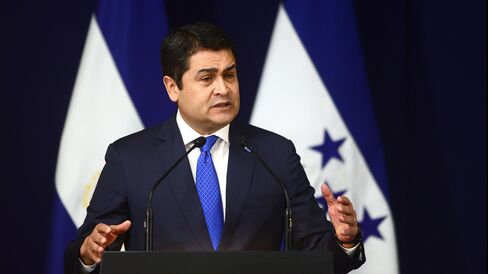 Honduras is bucking a regional trend by scrapping earlier plans to sell global bonds after the nation reached an accord with the International Monetary Fund in December, President Juan Orlando Hernandez said.
The $19 billion Central American economy, which has struggled with everything from coffee rust disease to gang violence, is strengthening and should be more positively viewed by credit rating companies, Hernandez said in an interview Tuesday in Washington. Last year the government weighed a plan to sell as much as $1 billion in global bonds in 2015 to help pay down local debt.
"I don't think it's going to be necessary" to sell global bonds, said Hernandez, who took office in January 2014. "We have substantially reduced the deficit, we have a program to reduce salaries and we have also improved tax collection."
Emerging markets from Panama to Lebanon have tapped global markets this year ahead of an expected move by the U.S. Federal Reserve to raise interest rates, which would result in higher borrowing costs for countries around the world. Panama and Costa Rica sold $1.25 billion and $1 billion, respectively, in March, while El Salvador issued $800 million in September.
Honduras secured a three-year, roughly $188 million agreement with the IMF in December, which it said it would use to help the country reduce its fiscal deficit to 2 percent of GDP by 2017 from 4.3 percent last year. The agreement helped push the yield on the country's 2024 dollar bonds down to a record 6.36 percent. The economy, rated five levels below investment grade by Standard & Poor's, expanded 2.9 percent in February from a year earlier.
Paying Taxes
The government is also seeking to simplify its tax code and reduce taxes for companies as it seeks to boost investment in the energy sector, Hernandez said. The country of 8.6 million people was ranked 153rd out of 189 economies this year by the World Bank in terms of paying taxes.
Hernandez announced plans in March to join a pipeline project that will carry natural gas from Mexico to Guatemala and said he will meet this week with producers in Texas to discuss the possibility of shipping gas from the U.S. to Honduras's Puerto Cortes, on the Caribbean coast.
"Medium term we want to become the country in the region with the most affordable energy prices," Hernandez said, adding that the country expects to complete a highway connecting the Pacific coast with its Caribbean port in the next 12 months.
Honduras, one of the world's most violent countries, contributed to a wave of child immigrants reaching the U.S. border last year, a phenomenon that led President Barack Obama to request $1 billion for 2016 to boost development and improve security in Honduras, El Salvador and Guatemala.
The three nations have drafted a plan to stem immigration and boost economic growth by as much as 3.5 percentage points by 2020. Honduras lowered its homicide rate to 66 murders per 100,000 people last year from 79 in 2013, according to government data.
"We are reducing violence levels at a pace that no other country in the Americas with the same circumstances has achieved," Hernandez said. "We have had added new jobs with the private sector like we haven't seen in the last five or six years."
Before it's here, it's on the Bloomberg Terminal.
LEARN MORE