Sustainability
George Will Trashes the Dominant Business Theme of Our Time
'Sustainability,' whatever that means, is synonymous with business strategy these days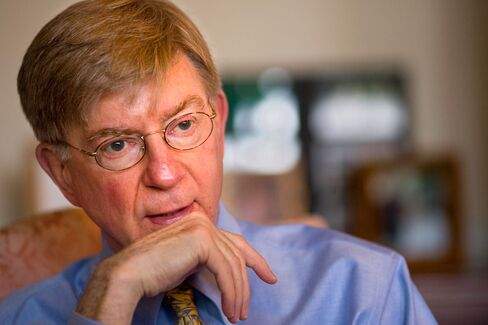 George Will, political commentator and serial mangler of climate science, wrote a column last week that lampoons American universities' latest strain of political correctness. It travels under that six-syllable Rorschach test of a word, sustainability.
No argument there. The overuse of "sustainability" is more than a little ridiculous. Will says campus true believers can't conceive of dissent and see the sustainability imperative as "obvious, elementary, even banal." It's worse than that. As previously observed, you can rearrange the 14 letters in "sustainability" to spell "banality: it is us."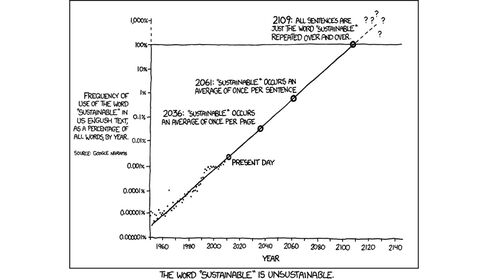 Will was riffing on a new report that laments how the sustainability movement—"Higher Education's New Fundamentalism" is the subtitle—has deranged debate on campus, while it recommends how to fix it.
By confining himself to the report's world of bright-eyed, mollycoddled college students and their bureaucrat-chaperones, Will leaves out the more meaningful story—that this thing, "sustainability," has become similarly prominent in what might be described as the rest of the world. It's just as easy to make fun of sustainability as it occurs at companies and investment houses. But it's harder to dismiss. Executives and managers have embraced it as a way of thinking that can slash waste, lead to new products, and boost a brand's influence in the public mind.
The last time anyone counted, there was one company in the Standard & Poor's 500-stock index that didn't disclose any information to investors relating to its performance on "sustainability" themes, such as environmental impact, civic and community relations, and corporate governance, according to a 2013 report by two investor-focused research groups. And even at that lone holdout, Zions Bancorporation, "disclosure levels are not necessarily an indicator of concern for the environment, about which we are very mindful," James Abbott, a spokesman, said. The company, he said, was an early lender to the renewable-power sector and has reduced its fossil fuel use.
So it's curious that Will picked only on colleges when, for better or worse, so much of the private sector has embraced sustainability as a global, government-free, money-making proposition. Expanding middle classes in Asia, Latin America, and Africa have reconfigured the world's most promising consumer markets. Big companies are competing for them, and the halo effect that comes from "citizenship," "responsibility," or "sustainability" can be a useful calling card in emerging markets. Under these slogans, companies are ironing out kinks from their supply chains, developing new products for new customers, and trying to attract employees by persuading them, however preposterously, that theirs is the corporation that will save the world.
The most confounding thing about sustainability ultimately doesn't matter: that you never know for sure if a company is bragging about itself because of all the high-minded-sounding work that it does, or if it's doing high-minded-sounding work just so it can brag about itself. Either way, the results are the same, and they seem pretty good for shareholders.
Sustainability groupthink at college may be dire, as stated in the report by the National Association of Scholars, a group that promotes academic freedom on campus. It just doesn't reflect what's happening beyond the ivory tower.
Will (who didn't respond to e-mails sent to his Washington Post address) levels further—and, again, reasonable—criticism at the political activists promoting higher-education divestment from fossil fuels as a way to change historic global patterns of energy use. He misses the much more noteworthy fact that the world has been divesting itself of the dirtiest fossil fuels without any prompting from impressionable underage drinkers and their stewards.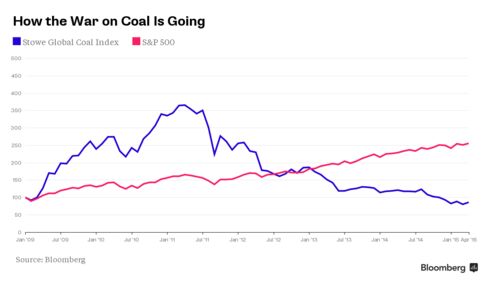 Investing in coal has been less than a winning idea for several years. Chinese growth, now slowing, fueled the surge for coal companies through 2011 or so. It's all shown in the above chart of the Stowe Global Coal Index, set against the steady, gradual ascent of the S&P 500. (Both indexes have been set to begin at the start of the Obama administration, making it easier for Beltway commentators to blame or credit the president for whatever is going on in private markets.)
The culprit behind coal's decline isn't the American university. Mostly, it's natural gas, which has made coal and even nuclear power less economical, or uneconomical, in the U.S. Gas has enabled the Obama administration's tightening of power plant regulations, and it's providing a cheap fuel for generators as the coal fleet born with the baby boomers starts to retire with them.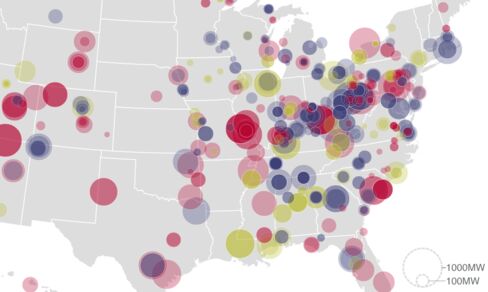 It's a shame that colleges and corporate public relations departments couldn't come up with anything catchier than "sustainability" to label their efforts, because it's basically the operating system on which the economy is going to run from now on, for those who are paying attention.
Given the free market forces driving companies and investors toward sustainability, it's a wonder that George Will is so upset about it. I can conclude only that he wasn't interested in this at all. He just wanted to scold those darned kids again.
Before it's here, it's on the Bloomberg Terminal.
LEARN MORE