Exxon CEO Says Expect Low Oil Prices for Next Several Years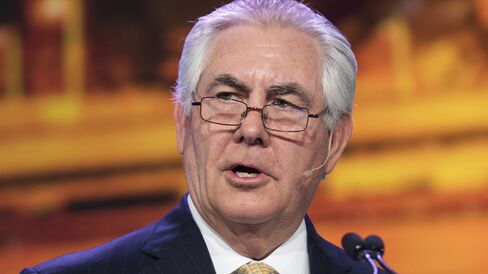 Exxon Mobil Corp. Chief Executive Officer Rex Tillerson said the industry should expect low prices to stick around for the next few years.
"People need to settle in for us to be in a different price environment for the next couple of years and then we'll see where it goes," Tillerson said in a speech at the IHS CERAWeek conference in Houston Tuesday.
The CEO of the largest U.S energy producer said he's watching to see if the oil industry behaves the same way U.S. shale-gas did, when a significant decline in rig activity in prior years didn't result in a drop in production capacity.
He also said he doesn't think OPEC is at war with U.S. shale. The Organization of Petroleum Exporting Countries is engaged in a "classic price discovery exercise," he said.
Before it's here, it's on the Bloomberg Terminal.
LEARN MORE