Euro at Almost 12-Year Low as Greece's Funding Concern Mounts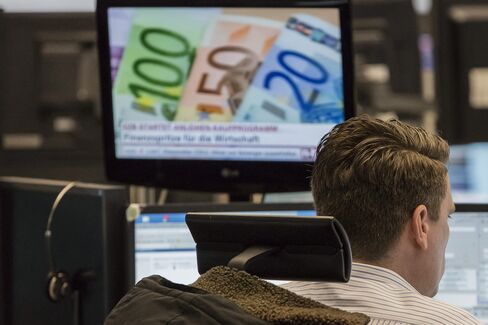 The euro traded at almost a 12-year low against the dollar as investor concern about Greece's future grew, with the European Central Bank said to be studying ways to rein in emergency financing to the nation's lenders.
The 19-nation currency fluctuated as ECB staff proposed increasing constraints on banks when they borrow from the Bank of Greece, people with knowledge of the discussions said. German investor confidence unexpectedly fell for the first time in six months in April, suggesting the debacle is weighing on Europe's largest economy.
"The current lack of U.S. dollar conviction, the continued pick-up in European data momentum, and the risk of Greece kicking the can down the road this week are all contributing to euro-dollar's choppy price action," Matt Derr, a foreign-exchange strategist at Credit Suisse Group AG in New York, said by e-mail.
The euro was little changed at $1.0736 as of 5 p.m. in New York, following a 0.6 percent decline on Monday. It fell as much as 0.7 percent earlier Tuesday. It added 0.4 percent to 128.47 yen. Japan's currency fell 0.4 percent to 119.67 per dollar.
The shared currency is trading near a 12-year low of $1.0458 set March 16, and is on track to decline for a 10th month against the dollar. Some analysts forecast the two currencies may reach parity this year.
Selling Side
"The market is still somewhat happy to sell euros on any euro rallies," Dean Popplewell, vice president of currency analysis and research at Oanda Corp., said by phone from Toronto. "The overall trend is certainly gravitating towards wanting to own U.S. assets."
While the measures to curtail the ECB's Emergency Liquidity Assistance to Greek banks haven't been formally discussed by the Governing Council, they may be considered if the nation fails to convince euro-area finance ministers it can reform its economy and secure bailout funds, one of the people with knowledge of the matter said.
Greece and its creditors are narrowing their differences as officials on both sides recognize that the best chance for success is an accord that leaves them all a bit unsatisfied, Finance Minister Yanis Varoufakis said Tuesday.
The nation faces increasing pressure to come to an agreement for more aid, without which it may run out of money as soon as next month. Euro-area finance ministers are due to meet April 24 to discuss Greece's proposals for the economic reforms that have been demanded in return for the final payments under its 2012 bailout.
Euro Weakness
The single currency has weakened 3.6 percent in the past three months against a basket of peers tracked by Bloomberg Correlation Weighted Indexes, the worst performance after the Swiss franc.
Government debt in the euro area surged in 2014 to the highest levels since the introduction of the single currency, led by Greece, a report issued Tuesday showed. Italy's debt mountain increased and remained the second-highest.
The ECB began its quantitative-easing stimulus plan last month, pledging to buy 60 billion euros ($64 billion) of public debt each month through September 2016 and sending bond yields tumbling below zero in countries from Germany to France.
ECB Vice President Vitor Constancio said Monday the central bank is convinced "there will be no Greek exit" and pointed out that the treaty behind the single currency "does not foresee that a country can be formally, legally expelled" from the bloc.
"The euro will struggle to rally," Matt Weller, an analyst at Gain Capital Holdings Inc.'s Forex.com unit, said by phone from Grand Rapids, Michigan. "I wouldn't be surprised if we edge back down to support at $1.05."
Before it's here, it's on the Bloomberg Terminal.
LEARN MORE