Egypt's Ex-President Mursi Sentenced to 20 Years in Prison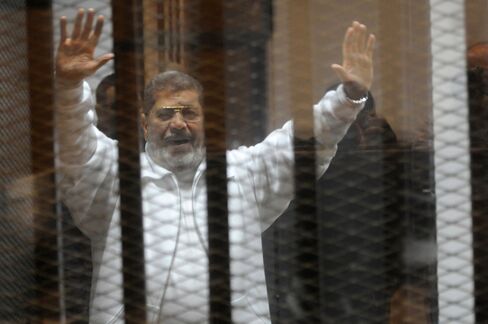 Former Egyptian President Mohamed Mursi was sentenced to 20 years in prison for his role in cracking down on a protest more than two years ago, in the first verdict against him since his ouster by the army.
Mursi was convicted in connection to violence that erupted during a rally against him outside the main presidential palace in Cairo in December 2012, about halfway through his one-year tenure. The Islamist, who was Egypt's first freely elected president, stood in a sound-proof glass cage as the judge read the verdict. The box was installed after he lashed out verbally at the judiciary and the military in a previous session.
The prosecution is part of a wider crackdown against the Muslim Brotherhood, the group that fielded Mursi for election. Hundreds of its supporters were killed in the weeks after the military, led by then-Defense Minister Abdel-Fattah El-Sisi, removed Mursi from power in July 2013. Thousands are in detention.
Islamists and other critics of El-Sisi, who won last year's presidential election, accuse the government of stifling dissent to restore the police state that prevailed under President Hosni Mubarak, who was toppled after a popular uprising in 2011. Leading Mubarak-era figures who were given prison sentences after the revolt have been granted retrials and acquitted.
'Sham Trial'
In a statement, Amnesty International said case was flawed.
"This verdict shatters any remaining illusion of independence and impartiality in Egypt's criminal justice system," said Hassiba Hadj Sahraoui, deputy Middle East and North Africa director at Amnesty. She cited irregularities in the judicial process and Mursi's "arbitrary, incommunicado detention" following his ouster. Authorities have repeatedly said that judicial rulings are not politically motivated.
Most of the Muslim Brotherhood trials show "that whatever democracy we had over the last four years is very much incomplete," said Ziad Akl, senior researcher at the Cairo-based Ahram Center for Political and Strategic Studies.
Torturing Protesters
Mursi's former chief of staff as well as senior leaders of the Muslim Brotherhood were also given a similar sentence. The verdict can be appealed. Egypt's benchmark stock index fell 0.2 percent at the close in Cairo.
The defendants were found guilty of torturing protesters who took to the streets after Mursi issued a decree giving his decisions immunity from judicial scrutiny. The Brotherhood dispatched its supporters to disperse the opposition's sit-in outside the presidential palace and the subsequent violence left several people dead and dozens injured.
Mursi's backers described the verdict as a "farce" and said the judiciary is being used as a "means of oppression," according to an emailed statement by the Islamist Pro-Democracy National Alliance. The former president is also standing trial on other charges including spying for foreign powers and escaping from prison during the 2011 uprising.
Before it's here, it's on the Bloomberg Terminal.
LEARN MORE