Drugmakers Reaping Rewards From Deals Signal M&A Boom Will Last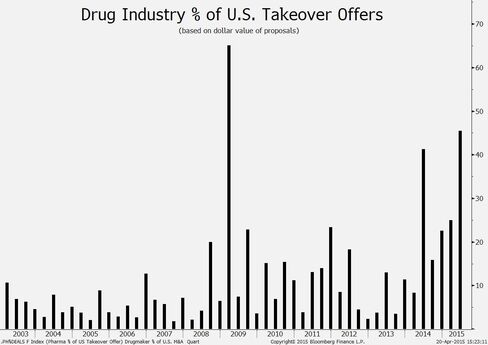 Drugmakers will sustain a boom in mergers and acquisitions for some time to come as investors view their dealmaking more positively, according to Adam S. Parker, chief U.S. equity strategist at Morgan Stanley.
The attached chart illustrates the surge, based on the dollar value of offers. The pharmaceutical industry accounted for 45.5 percent of this quarter's total in the U.S. through yesterday, according to data compiled by Bloomberg.
Drug-industry dealmaking exceeded 20 percent of the total value of all offers in each of the previous two quarters. That hadn't happened since at least 2002, as the chart shows.
"M&A was punished by the market in the past, but is currently rewarded," Parker wrote yesterday in a report on drugmakers. The reversal has occurred because deals spurred by opportunities to cut costs and raise prices have supplanted the "dream-driven acquisitions of years past," the New York-based strategist wrote.
Buyers have benefited from the availability of cheap financing, along with the relatively short time for many deals to lift earnings, he wrote. Ten-year note yields for BBB rated U.S. health-care companies dropped in the 12 months ended last week by 53 basis points to 3.26 percent, based on Bloomberg's data. Each basis point equals 0.01 percentage point.
While drugmakers' M&A surge "is in its later stages," access to capital is one reason to anticipate more dealmaking, Parker wrote. He cited two others: the industry's potential for consolidation and stocks' six-year bull market, which may clear the way for more takeover-driven gains.
Before it's here, it's on the Bloomberg Terminal.
LEARN MORE