DEA Chief Said Set to Resign After U.S. Watchdog Faulted Agency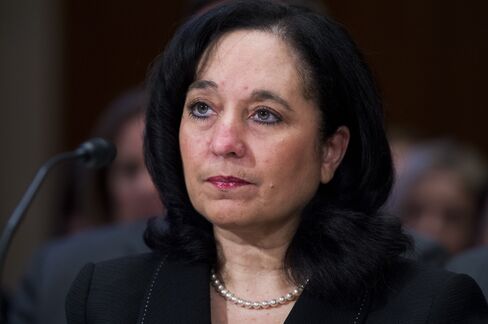 The head of the U.S. Drug Enforcement Administration is expected to resign as soon as Tuesday, said an Obama administration official, after a government watchdog alleged that agents cavorted with prostitutes.
Michele Leonhart, the DEA's administrator, has faced mounting pressure from lawmakers upset by revelations in the government watchdog report that agents had engaged in "sex parties" with prostitutes paid by drug cartels in Colombia. Last week, she was questioned about the scandal by lawmakers on a House oversight committee, a majority of whom later issued a letter expressing "no confidence" in her leadership.
The administration official who described Leonhart's expected resignation spoke on condition of anonymity before a formal announcement. Earlier, White House spokesman Josh Earnest declined to back Leonhart, saying, "The president, as you know, maintains a very high standard for anybody who serves in his administration, particularly when it comes to law enforcement officials."
A DEA spokesman, Joseph Moses, didn't immediately respond on Tuesday to an e-mail or phone message seeking comment.
Leonhart, a career DEA official who has led the agency since 2007, has faced tough questions on Capitol Hill over the years about President Barack Obama's sentencing and drug policies. But it was the prostitution scandal that has garnered the most attention and controversy.
Watchdog Report
The Department of Justice's inspector general last month reported that Colombian police officers alleged they arranged sex parties attended by several DEA agents at a DEA facility and that they had protected the agents' weapons during the festivities.
In addition to supplying prostitutes, drug cartels gave three DEA agents money, gifts and weapons, according to police officers who reported the behavior to the DEA. The inspector general, which was investigating how law enforcement agencies handled allegations of sexual misconduct claims between fiscal 2009 and 2012, based its findings on a review of internal DEA reports and interviews.
Seven of 10 agents alleged to have participated in the parties admitted to their involvement and received suspensions ranging from two to 10 days in length, the inspector general found.
Before it's here, it's on the Bloomberg Terminal.
LEARN MORE