Credit Suisse Cuts Dollar Bets to Avoid Most-Crowded Trade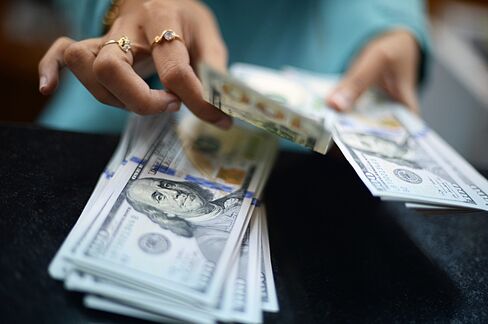 Credit Suisse Group AG is starting to cut positions that seek to profit from the dollar's strength, according to Robert Parker, a senior adviser in the investment, strategy and research group.
"What is the most crowded trade in the world?" he said in an interview at an investor conference in Singapore. "Everybody is long the dollar. I hate crowded trades."
Strategists predict the dollar's gains will slow in coming months. The currency will appreciate almost 3 percent to $1.04 per euro by year-end, according to a Bloomberg survey, after surging 14 percent in 2014. Its advance versus the yen will be limited to less than 5 percent, after jumping more than 10 percent in each of the past three years.
"Being long the dollar has been a very attractive trade," Parker said at the Credit Suisse Global Megatrends Conference 2015. "It's time to close it off."
Parker said financial markets have already priced in the prospect of higher U.S. interest rates. "It is so over-discounted," he said.
The Federal Reserve will increase borrowing costs at its December meeting, based on a Morgan Stanley index, compared with a prediction for September about a month ago.
The dollar traded at $1.0703 per euro at 12:55 p.m. in London, having advanced 29 percent in the past 12 months. The greenback was at 119.36 yen versus 102.62 a year ago.
'Unfair Competition'
The euro and yen are very cheap on a purchasing power parity basis, Parker said. The two currencies have tumbled against the dollar since the middle of last year as the Bank of Japan and European Central Bank boosted stimulus to counter deflation.
"The BOJ is very conscious of pressure from other Asian central banks who say that Japan has an unfair competitive advantage in the weakness of the yen. The ECB has largely achieved what it wanted," that is, weakening the euro, he said.
U.S. policy makers will probably raise borrowing costs slowly, starting from as early as September, before accelerating the pace of increases from the second half of 2016 as inflation picks up, he said. The Fed funds rate is likely to climb to 2.5 percent by early 2017, he said.
The Fed has kept its benchmark in a range of zero to 0.25 percent since December 2008 to encourage growth.
Before it's here, it's on the Bloomberg Terminal.
LEARN MORE