Clegg Vows U.K. Public-Sector Pay Rising in Line With Inflation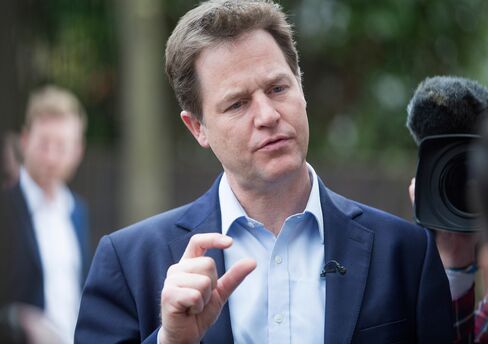 U.K. Liberal Democrat leader Nick Clegg pledged to raise public-sector workers' pay by at least the rate of inflation if his party stays in government after May.
Clegg, the deputy prime minister, said such workers -- whose pay increases have been capped under the Conservative and Liberal Democrat coalition -- should start to feel the benefits of Britain's economic recovery, according to remarks released by his office.
Prime Minister David Cameron's government has also cut the number of public-sector workers as part of its push to narrow the budget deficit. While the rate of inflation dropped to zero in March, price increases have outpaced wage growth for most of the government's five-year tern. This has meant pay cuts in real terms for state employees, prompting them to strike on several occasions.
"Workers across the public sector have made enough sacrifices," Clegg said. "It is time to end the era of pay restraint. Under our plans, we will give all public-sector workers, from teachers and nurses to social workers and police officers, pay rises that at least keep pace with the cost of living every year."
Clegg, who is seeking to portray his party as bringing fairness to Tory policies and curbing excessive spending by Labour, said guidance would be issued to public-sector pay review bodies to ensure increases at least in line with inflation in the 2016-2017 and 2017-18 financial years.
The Liberal Democrats said this would translate as a minimum pay raise of 350 pounds ($520) for a nurse earning 25,000 pounds a year, for example.
Before it's here, it's on the Bloomberg Terminal.
LEARN MORE