China Seen Close to First Bond Default by State-Owned Firm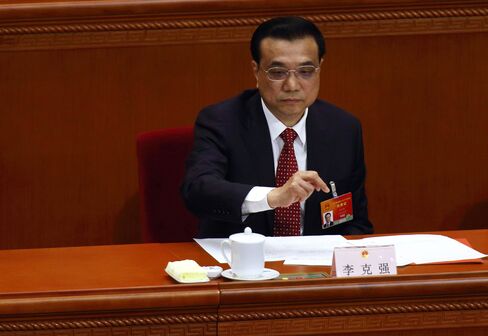 A Chinese power-transformer maker could become the first state-owned company to default in the onshore note market after flagging "big uncertainty" about its ability to make a bond interest payment due today.
Baoding Tianwei Group Co., a unit of central government-owned China South Industries Group Corp., said in a statement dated Monday that it hasn't raised enough money to pay the interest. The company must repay 85.5 million yuan ($13.8 million) of interest Tuesday on the 1.5 billion yuan of 5.7 percent bonds issued April 2011, according to an April 14 statement.
Premier Li Keqiang has pledged to open the economy to market forces and strip power from the government since he took office in March 2013. While most bond issuers are state-backed companies, only privately owned firms have previously defaulted in the domestic market -- Cloud Live Technology Group Co. earlier this month and Shanghai Chaori Solar Energy Science & Technology Co. last year.
"Baoding Tianwei is only one step from default," said Liu Dongliang, a senior analyst at China Merchants Bank Co. in Shanghai. "But anything can happen before the last minute."
Three calls to Baoding Tianwei went unanswered today. A press official who wouldn't be identified at lead underwriter China Construction Bank Corp. didn't immediately comment over the phone.
Baoding Tianwei's notes due April 2016 have dropped 7.1 percent since March 31 to 85.3 percent of par, set for the sharpest monthly decline since they were issued in 2011.
Among outstanding notes issued by Chinese companies, 91 percent are from government-backed enterprises, while only 6 percent are sold by privately owned firms, according to data compiled by Haitong Securities Co.
The nation's corporate debt is the highest in the world, former central bank adviser Yu Yongding wrote in the official China Daily last week. Companies in China had $14.2 trillion in debt at the end of 2013, exceeding every other country including the U.S., which had $13.1 trillion in company obligations, Standard & Poor's said in a June report.
— With assistance by Judy Chen
Before it's here, it's on the Bloomberg Terminal.
LEARN MORE