Lenders Awash With Euros Pay Banks and Governments to Take Loans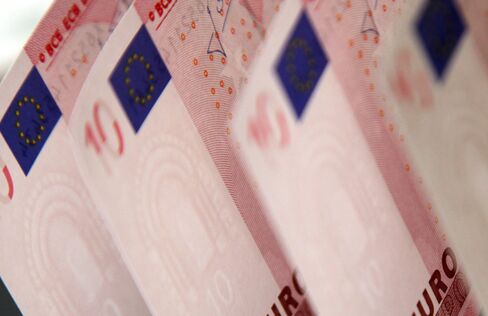 Euros are so abundant thanks to Mario Draghi's easy monetary policy that banks are starting to pay each other to get the cash off their balance sheets.
For the first time, an index of three-month interbank loans in euros fell below zero on Tuesday. Elsewhere, the Spanish government raised funding for the same period of time and got paid to take the money.
They're the latest signs that the efforts by the European Central Bank President to get cash flowing into the economy are starting to percolate through markets. The plan is for the cheap money created by ECB bond purchases -- known as quantitative easing -- finally to boost growth and stave off deflation.
"It's good news for borrowers, not so good news for lenders," said Ciaran O'Hagan, the Paris-based head of European rates strategy at Societe Generale SA. "Mr. Draghi wants us to spend the cash. The purpose of QE is to get us to take on some risk."
The euro three-month interbank offered rate, or Euribor, for three-month loans, dropped to minus 0.001 percent, according to data from the European Money Markets Institute. That's the first negative reading for the once-a-day fixing since Bloomberg started collecting the data at the end of 1998.
Meanwhile, Spain sold Treasury bills with similar maturity at a yield of minus 0.029 percent. Less than three years after being in danger of joining Greece, Ireland and Portugal in losing access to financial markets, the country is now in a position to charge investors who lent it money.
'Excess Liquidity'
Short-term borrowing costs, including those charged in the money market, declined after several moves by the ECB. In June it introduced a negative deposit rate, meaning that commercial lenders were required to pay a fee to park their excess cash overnight with the Frankfurt-based institution. The ECB lowered the rate to minus 0.2 percent in September.
Then in March this year the central bank started buying government bonds under an unprecedented plan to inject about 1.1 trillion euros ($1.2 trillion) into the euro system.
"Excess liquidity keeps flowing into the system week by week because of the QE program," said Nikolaos Panigirtzoglou, a strategist at JPMorgan Chase & Co. in London. "Banks find themselves inundated with deposits but they don't want to pay the ECB for parking their money there. Instead they'd rather lend the cash in the interbank market."
The amount of cash euro-area banks parked overnight at the ECB rose to more than 93 billion euros on Monday, the most since January 2014.
Collateral Rates
While the easing measures aid borrowers, they're not without risks. The bond purchases may damage money markets that provide the lifeblood for fixed-income markets. They're also making it harder for bond investors such as insurance and pension funds to generate the returns required for their products.
The ECB's QE is curbing the availability of securities that could have otherwise been used as collateral in the repurchase, or repo, market. Rates for short-term funding from repo transactions are currently negative or near record lows, meaning traders are paying to borrow bonds rather than receiving cash loans in exchange for those securities.
The purchases "could lead to scarcity of bonds, which could lead to less liquidity and ultimately to larger transaction costs," said Kim Liu, a fixed-income strategist at ABN Amro Bank NV in Amsterdam.
Destroying Value
ECB bond buying has already helped push the average yield on euro-area bonds to about 0.5 percent. And German 10-year bunds, which yielded 0.11 percent at 4:19 p.m. London time, are "the short of a lifetime," Janus Capital Group Inc. said in a tweet, attributing the comments referring to a bet prices will fall and yields will increase to money manager Bill Gross.
If something doesn't give, those investors that depend on the safest assets are at risk, according to the world's largest asset manager.
"As we live in a world of persistent low rates and, in the case of Europe, negative rates today, when you put a macro-prudential framework on it, we are destroying the value of pension funds," Laurence D. Fink, chief executive officer of BlackRock Inc., said at a conference in Singapore on Tuesday. "We are destroying the viability of insurance companies."
Before it's here, it's on the Bloomberg Terminal.
LEARN MORE