Auschwitz Officer Says He's 'Morally Guilty' for Murders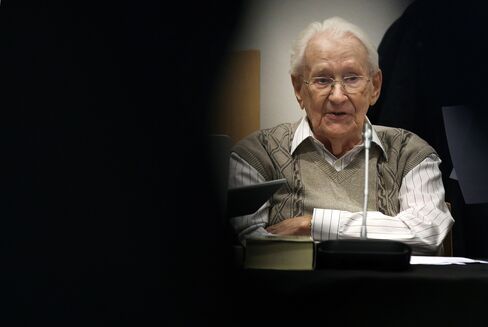 A 93-year-old man who was once a Waffen SS volunteer at Auschwitz told a German court that while he never killed anyone, his role in an administrative post at the concentration camp made him "morally guilty" for murder.
Oskar Groening, who collected money taken from camp victims' luggage, went on trial Tuesday in the German city of Lueneburg on charges he aided in the murder of 300,000 Jews. He told judges that he tried to leave his post at Auschwitz, once because he saw Jews being gassed and heard their screams.
"It's very clear that I am morally guilty for the murders and I acknowledge that guilt here today with remorse," said Groening, who vividly described his time at the camp more than 70 years ago. "As to the question of guilt under criminal law, this is for the court to decide."
Groening's case is the first after the 2011 conviction of former Sobibor camp guard John Demjanjuk. German prosecutors are trying to show that lower-ranking staff at concentration camps can be held responsible because they knew about the killings and supported the system, if only in administrative roles.
Groening, who was trained to work as a banker, told the court that one of his tasks was to make sure money and valuables wouldn't be stolen by camp staff from luggage left by prisoners. The victims had mostly been moved to the gas chambers when he arrived at the ramp where they had been selected, he said.
Soldier Killed Baby
He told judges that he unsuccessfully tried to be relocated to another post or to the front. The first time was when he saw an SS guard kill a baby by smashing it against a truck. The second was when he saw an SS soldier pour gas through a slot into a farmhouse where Jews were held. He heard the victims screams, which eventually faded away, Groening said.
Groening started his testimony from a manuscript, but mostly spoke freely about his time in Auschwitz. His seemingly good physical and mental health was in stark contrast to the 91-year-old Demjanjuk. During his trial, Demjanjuk was in a stretcher, never talked and never admitted he was at the Sobibor concentration camp.
Groening said that in the summer of 1944, one evening he didn't return to his room at Auschwitz because he knew that his superiors were collecting men for a "special operation." The term was usually code for killing prisoners.
"Until then I had avoided directly participating in the killings and I wanted to keep it that way," he said.
His third request to be relocated was finally accepted at the end of 1944 and he was moved to the front, he said.
Probe Dropped
Groening has long been open about his role in the camp and has been interviewed in newspapers and magazines. In the late 1970s, Frankfurt prosecutor investigated him, but dropped the case in 1985.
"I also testified against some of my comrades at their trials," said Groening. "One prosecutor cited me as an example that this wasn't all about orders and obedience, but that you could decide to be relocated if you didn't want to serve at a camp."
More than 60 Auschwitz survivors and relatives of camp victims have registered as co-plaintiffs at the trial and some may testify Wednesday.
"The co-plaintiffs are hoping for justice," a group of lawyers representing about 50 people, said in a statement. "This trial promises justice, even if way too late."
Groening said he came from a nationalist background and, like many Germans, he initially supported Adolf Hitler who "created jobs for 5 million unemployed.".
Bank Job
He gave up his job at a local bank to join the Waffen-SS because their troops were "dashing" and he wanted to participate in their triumphs. He didn't know the role some SS units played in concentration camps or what Auschwitz was before he got there.
Before being sent to the concentration camp, he and other recruits were told in Berlin that they were chosen for "special tasks that may not be pleasant, but are equally important for the final victory," he said.
On the evening of his arrival, he had "lots of vodka" with officers who served at Auschwitz. They told him that inmates were at the camp for work and those who couldn't work were "disposed of." Everybody knew that meant they were killed, he said.
Before it's here, it's on the Bloomberg Terminal.
LEARN MORE