Apple Boosts U.S. Lobbying Spending, Advocates on Mobile Payment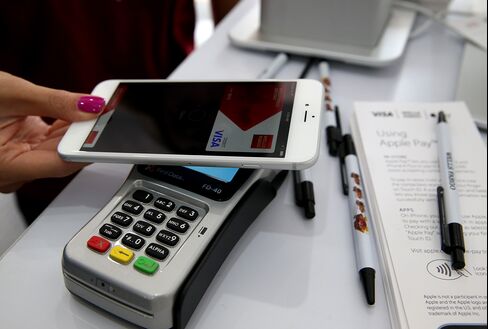 Apple Inc., which has been boosting its presence in the U.S. capital, increased spending on lobbying efforts 16 percent during the first three months of this year, including on issues related to mobile payments.
The Cupertino, California-based tech company spent $1.24 million during the quarter compared with $1.07 million in the same period last year, Apple said in a lobbying report filed Monday.
Apple listed a variety of subjects, such as taxation and consumer privacy, as topics of its discussions with government officials. The company's representatives also advocated on "issues related to mobile payments" before the Treasury Department and members of the Senate and House, according to the filing.
President Barack Obama announced in a February visit to Palo Alto, California, that Apple's new mobile payment system will be enabled for users of federal-payment cards, including Social Security and veterans' benefits that are paid out via debit cards. The effort includes the Direct Express payment network and government cards issued through GSA SmartPay, which handles more than 87.4 million transactions worth $26.4 billion each year, according to the General Services Administration.
Apple Pay, which enables iPhone 6 and 6 Plus smartphones to essentially be used as a bank or credit card at specially equipped cash registers, is one of several new services being introduced by Chief Executive Officer Tim Cook.
Apple, the world's largest company by market capitalization, spent a company record $4.1 million on lobbying in 2014. Cook is seeking to make the company more open while laying the groundwork for new products that attract more government scrutiny.
Apple's lobbying expenses still lag behind its tech competitors. Google Inc., for example, spent $5.47 million during the past quarter, according to its filing.
Josh Rosenstock, an Apple spokesman, declined to comment.
Before it's here, it's on the Bloomberg Terminal.
LEARN MORE