Walker's Frugal Shopping Tale Doesn't Mention Taxpayer Millions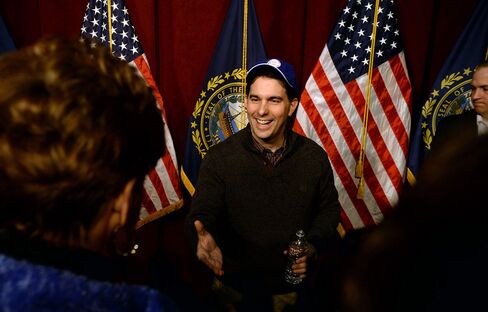 It lacks Apple's cult following, the cutting edge of Tesla or the daily devotees of Starbucks. Yet Wisconsin Governor Scott Walker can't stop talking about Kohl's as he crisscrosses the U.S. before a likely presidential run.
The retail discounter is based near his suburban Milwaukee home, and the Republican lets audiences know that he's mastered its check-out process, its promotions and its multiple coupons.
"The next thing you know, they're paying me to buy that shirt," Walker told an audience Saturday evening in New Hampshire.
The tale makes it into virtually every Walker speech and regularly wins him laughter and applause. His complete history with the company, though, shows how reality can be more complex than a politician's stump-speech anecdotes.
What Walker doesn't mention is his biggest interaction with the third-largest U.S. department store chain: a state incentive package worth as much as $62.5 million. The credits, offered in 2012 when there was a chance the company would relocate to another state, arrived despite Walker's limited-government philosophy.
"I believe people create jobs, not the government," Walker said in that same New Hampshire speech.
Jeb Jab
Walker invokes Kohl's to sell himself as a frugal steward of tax dollars, and as a common man who "didn't inherit fame and fortune," a jab at Republican Jeb Bush and Democrat Hillary Clinton, whose families dominated U.S. politics for much of the 1990s and 2000s.
There's another benefit: Kohl's has a more concentrated presence in Iowa and New Hampshire, which start the presidential nomination voting in 10 months.
With the exception of Hawaii, the retailer has a presence in every state. Nationally, it has 3.7 stores per million residents. Iowa has 5.8 Kohl's per million, data compiled by Bloomberg show; New Hampshire has 7.5.
Founded in Wisconsin in 1962, the company is in Menomonee Falls. It operates more than 1,100 stores with annual sales of more than $19 billion, according to its website.
Walker's deal with Kohl's was crafted after the retailer let it be known in 2010 that it was looking to build a new headquarters. Company leaders said they had a fiduciary duty to look at all options.
In June 2012, Walker said the Wisconsin Economic Development Corp. would provide the tax credits over 12 years. At the time, the amount was second only to the $65 million that Democratic Governor Jim Doyle's administration approved for Mercury Marine in 2009 to stay in Fond du Lac.
The package was tied to making $250 million in capital improvements and hiring 3,000 more employees. If the company ultimately spends less on its headquarters or hires fewer employees, it will receive proportionately less tax credit, said Mark Maley, a corporate spokesman.
Slightly more than a quarter of those jobs have materialized. When the package was awarded, Kohl's had 3,782 non-retail jobs in the state, according to the economic development agency. It now has 4,576, a gain of 794.
After announcing in 2012 plans to create a $250 million headquarters in Menomonee Falls, Kohl's said the next year that it would instead add to its existing headquarters, citing disappointing financial results.
As of February 2014, Kohl's had made $71.6 million in capital investments and received about $8.8 million in credits based on its spending and addition of employees, according to a corporation synopsis.
Words, Deeds
Democrats say they see hypocrisy.
"If you look at the Walker record, it has been cuts to infrastructure like public education to fund a trickle-down economic agenda that hasn't worked," said Mike Browne, deputy executive director of One Wisconsin Now, a liberal-leaning group.
Walker's predecessors also offered incentives to Kohl's, but his deal with the retailer was many times larger than the total of all others. The state's Department of Commerce, which Walker replaced with the WEDC, had provided the company about $8.5 million since 1989.
"Kohl's is one of the largest employers and fastest-growing companies in our state," said Laurel Patrick, a spokeswoman for Walker. "We are committed to helping job creators create and retain jobs."
Walker isn't alone in using tax credits or other incentives to keep or attract jobs. Some of his likely Republican 2016 rivals have, too.
Former Texas Governor Rick Perry pushed lawmakers to create the Texas Enterprise Fund, which has provided roughly $500 million to encourage companies to expand. Former Governor Jeb Bush pushed incentive packages for companies in Florida.
Jen Johnson, a Kohl's spokeswoman, didn't return e-mails or phone calls requesting comment about Walker's incentive package.
Walker's invocation of Kohl's has advantages and disadvantages for the retailer, said Brian Yarbrough, a St. Louis-based analyst at Edward Jones & Co. who follows the company.
"You don't want it to be where Kohl's gets the moniker that, at Kohl's, people can get stuff for free," he said. Then again, Yarbrough said, it also "introduces people to the brand."
In speeches, Walker closes the Kohl's anecdote by turning it into an argument for his ideas on taxes.
"They could sell a few of those shorts at $29.99, or they could lower the price, broaden the volume and get more people to purchase their products and the next thing you know they're making more money," he said in New Hampshire. "That's how I think about your money, the taxpayer's money. The government could charge you a higher rate and a few of you could afford it, or we could lower the rates, broaden the base and have more people participate in the economy."
Before it's here, it's on the Bloomberg Terminal.
LEARN MORE