Verizon, AT&T Seen Trailing T-Mobile in Wireless User Growth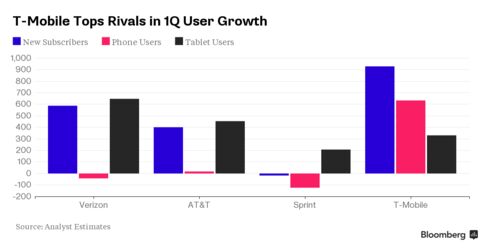 Verizon Communications Inc. and AT&T Inc. will post first-quarter results this week that will probably show wireless subscriber growth trailed smaller rival T-Mobile US Inc., a milepost passed only once before.
Verizon and AT&T, which report earnings Tuesday and Wednesday, added 587,000 and 400,000 new monthly subscribers, respectively, based on the average estimate of five analysts surveyed by Bloomberg. T-Mobile gained about 930,000, leading in subscriber growth again after it topped the industry in the March quarter of 2014.
T-Mobile's marketing campaign and the trash-talking, industry-rebel persona of its chief executive officer John Legere have succeeded in luring more users -- many of them lucrative phone subscribers. That has forced AT&T and Verizon to rely more heavily on tablet sales to pump up user growth.
"The U.S. wireless market is saturated," said Maribel Lopez, an analyst with Lopez Research in San Francisco. "Only two things will drive carrier growth: stealing customers from other carriers or adding connected devices like tablets and cars."
Tablets provide incremental revenue gains and contribute to higher data bills, yet their popularity temporarily masks the underlying slowdown in mobile user growth.
Tablet sales provided most, if not all monthly subscriber growth for Verizon, AT&T and Sprint Corp. Without tablets, Verizon would have lost about 42,000 phone customers, according to the analysts' survey. Tablets more than offset the estimated 123,000 phone subscribers that Overland Park, Kansas-based Sprint lost in the quarter. And excluding tablets, AT&T added 15,000 phone customers in the first quarter, the estimates show.
'Maturing' Industry
At the end of last year, Verizon, the largest wireless carrier, has 102 million monthly subscribers, known as post-paid users, followed by 75.9 million at Dallas-based AT&T, 29.9 million at Sprint and 27.2 million at T-Mobile, based in Bellevue, Washington.
"The industry is maturing," said Kevin Smithen an analyst at Macquarie Securities USA Inc. Everyone already owns at least one phone and the number of customers leaving No. 3 Sprint has tapered off, he said. "Verizon and AT&T can no longer offset subscriber losses to T-Mobile with gains from Sprint."
On Tuesday, Verizon may post first-quarter profit of 95 cents a share excluding some items and revenue of $32.3 billion, the average of analysts' estimates compiled by Bloomberg. A day later, AT&T may report profit of 62 cents minus some items and sales of $32.8 billion, estimates show.
New Businesses
The competitive pressure and slumping growth in phone subscriptions have forced the two biggest carriers to expand into new businesses.
AT&T CEO Randall Stephenson is awaiting regulatory approval of the company's $48.3 billion purchase of DirecTV, the largest U.S. satellite-TV provider. AT&T is also expanding wireless service to Mexico with the acquisition of Iusacell SA and has a pending deal for Nextel Mexico.
Lowell McAdam, the CEO of New York-based Verizon, is planning to start a mobile video service this summer featuring live TV and sports, original content and on-demand video.
Meantime, Legere is gunning for Sprint's spot as the third-largest U.S. carrier. He made the prediction last year, and has had to move the timing of that milestone a couple times.
Spring CEO Marcelo Claure said in an interview this month that he admires Legere's performance though questioned his reliability on predictions.
"John Legere has been crying wolf since the third quarter of last year," Claure said. "We are still third."
Before it's here, it's on the Bloomberg Terminal.
LEARN MORE