U.K. Forecasts Shift to Miliband Success as Polls Stay Tied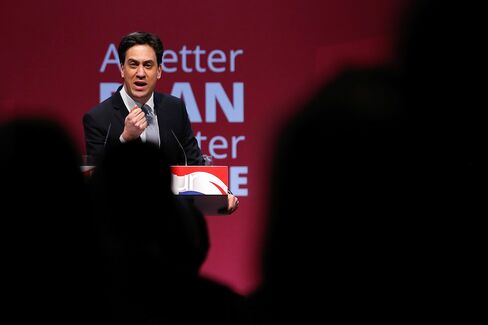 With slightly more than two weeks before voting in the U.K. election, forecasters are shifting their view of the likely result in Labour's favor. It's not because things have changed -- it's because they haven't.
Peter Kellner, president of the polling company YouGov Plc, said April 19 he was changing his prediction from one in March that had the Conservatives winning most seats, and David Cameron with a chance to remain prime minister to one that has the two parties tied and Labour's Ed Miliband taking the top job. Bookmaker Paddy Power said the next day it had moved Miliband to favorite to win.
The new mood reflects a Tory failure to move the polls in their direction. If they're tied with Labour on seats, Miliband has more support than Cameron among other parties, notably the Scottish National Party, making it easier for him to control Parliament.
"The expected thing that we thought would happen, that the Tories would pick up support, hasn't happened," said Joe Twyman of YouGov. "Historical precedent states that in the run-up to the election, you get a movement in favor of the incumbent. It's now less than three weeks to go, and the Tories still aren't making any headway."
The Conservatives built their election platform last week around a policy of offering poorer families the chance to buy their rented homes at a discount. But they've barely mentioned the policy in social media since then, and some polls suggest it has gone down badly with the public.
Major's Speech
On Tuesday, they deployed former Prime Minister John Major -- the last Tory leader to deliver the party an outright victory, in 1992 -- to attack the idea of a Miliband government being supported by the SNP.
"It could put the country on course to a government held to ransom on a vote-by-vote basis," Major said in a speech in Solihull in England's West Midlands. "This is a recipe for mayhem. At the very moment our country needs a strong and stable Government, we risk a weak and unstable one -– pushed to the Left by its allies, and open to a daily dose of political blackmail."
The SNP is central to the reason Miliband is becoming a likelier prospect as prime minister. With polls suggesting the pro-independence party could pick up almost all Scotland's 59 seats, it is set to be a key player in deciding who forms the next government.
In order to build support from former Labour voters, SNP leader Nicola Sturgeon has promised repeatedly that she won't prop up a Conservative-led administration. While the SNP might go on to block policies it didn't like, on the big question of who is the next prime minister, it's backing Miliband. And that gives him a big head start when it comes to building a coalition with other parties.
"Miliband knows he can count on SNP support, because they won't put the Tories in," said Philip Cowley, professor of politics at Nottingham University. "And at least initially, they won't vote a Labour government out."
Before it's here, it's on the Bloomberg Terminal.
LEARN MORE