Tory Tweeters Ignore Flagship Housing Policy Rejected by Voters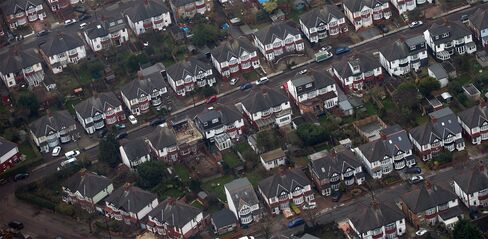 The policy that David Cameron put at the heart of his U.K. re-election campaign has featured in less than 2 percent of his Conservative Party's posts on social media, after polls showed voters reject it.
Of 436 Twitter and Facebook posts sent from the party's five main accounts since April 15, only eight refer to a plan to give poorer families the chance to buy at a discount the homes they currently rent.
The prime minister announced the policy a day earlier, saying it was part of his mission to give Britons a taste of "the good life." Voters disagree. A YouGov Plc poll found it was the least popular of the party's headline policies, with 57 percent saying it was the wrong priority and 28 percent saying it was a good idea.
"I'm not surprised they've stopped talking about it," Anthony Wells, director of political and social opinion polling at YouGov, said in an interview. "It hasn't gone down too well. Of course, the fact that they're not talking about it publicly doesn't mean they're not putting it in direct mail to people who'll benefit from the policy. But I suspect they thought it would be more popular than it is."
Instead, as bookmakers and pollsters suggest that opposition Labour Party leader Ed Miliband is likely to become prime minister with the support of the Scottish National Party, the Conservatives have focused their attention on attacking any such deal.
SNP Targeted
The most popular subject, with 175 posts -- a third of all those sent by Cameron, the Conservative Party and the Conservative press office -- was the SNP and what it might demand from a Labour government it supported.
In second place, with 107 posts, was the economy.
Other topics that featured more than right-to-buy include Miliband's leadership qualities and, more surprisingly, immigration policy, a source of embarrassment to Cameron after the Office for National Statistics confirmed in February that net migration to the U.K. is running far above the "tens of thousands" promised by the Tory leader in 2010.
The policy of forcing nonprofit housing associations to sell properties to their tenants has been attacked by the associations and by industry bodies. The Chartered Institute of Housing said it feared the Conservative calculations on paying for the policy "won't stack up" and that "it would result in a dramatic loss of vital social and affordable housing."
Before it's here, it's on the Bloomberg Terminal.
LEARN MORE